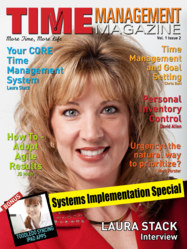 This issue has an even more impressive list of contributors than the first issue!
Winnipeg, Manitoba (PRWEB) November 05, 2012
The new issue of Time Management Magazine contains articles from a number of authors, including Laura Stack, JD Meier, Chris Ball and David Allen. These authors have contributed a large array of time management techniques for readers to use.
Laura Stack is featured prominently in this issue with her article titled, "Your CORE Time Management System", in which she advises readers to Capture, Organize, Reference, and Execute. She has 20 years of time management experience and has been featured in the CBS Early Show, CNN and New York Times, and even provides an interview for the magazine performed by the magazine's creator.
The author of "Getting Results the Agile Way", JD Meier, has provided more Agile Results information, and tells readers to not only set "minimum" goals but also to set "maximum" goals, to help keep a balanced life.
Chris Ball starts his article by saying, " Time to Prosper. Stop dreaming; start doing.", and finishes the articles with a section titled, "Overcoming The Time Stealer of Procrastination", in which he explains that there are eight reasons why we procrastinate.
About Time Management Magazine:
Time Management Magazine can be downloaded by searching in the App Store for "Time Management Magazine", If on an iPad or iPad Mini select "NewsStand" as the category. Once the app is downloaded, on the app home screen a free special, single issue, or subscription is available.
Time Management Magazine is available only on the iPad and iPad Mini from the Apple App Store.