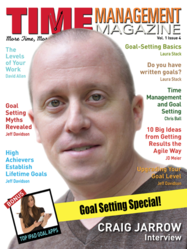 Our reason behind this magazine is because too many people say there is simply not enough hours in the day
Winnipeg, Manitoba (PRWEB) January 11, 2013
Start off the New Year with a resolution to make more time out of your day with help from Time Management Magazine. Packed with tips, methods and interviews with some of the frontrunners and leaders of time management, Time Management Magazine has everything the busy person needs to maximize their day.
"Our reason behind this magazine is because too many people say there is simply not enough hours in the day. Time Management Magazine helps to minimize extraneous time waste and maximize productivity. We have tips for everyone from a CEO to a cab driver," said Glenn Watt, Senior Editor.
Featuring such Time Management elite as Craig Jarrow, Laura Stack, David Allen and Chris Ball, Time Management Magazine's fourth issue is sure to be the best yet.
"Issue 4 has been released and we hope anyone who is struggling with time and time management will give us a look. We are still offering the same great deal with the release of Issue 4 as we have with our other issues," Watt said.
Purchase a subscription for Time Management Magazine and instantly receive a 40% discount on the cover price plus a 1-month free trial. In addition to these savings, join our mailing list and receive an additional month of Time Management Magazine as a special bonus. In other words, get two months of Time Management Magazine absolutely free.
About Time Management Magazine: Time Management Magazine can be downloaded by searching in the App Store for "Time Management Magazine", If on an iPad or iPad Mini select "NewsStand" as the category. Once the app is downloaded, on the app home screen a free special, single issue, or subscription is available. Time Management Magazine is available only on the iPad and iPad Mini from the Apple App Store.