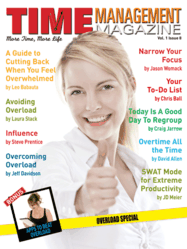 Our eighth issue will feature articles from Jason Womack, Laura Stack, Jeff Davidson, Craig Jarrow, JD Meier, Chris Ball, David Allen, Leo Babauta Steve Prentice and Stephan Dodd. Many of them are old friends of Time Management Magazine, and a few are
(PRWEB) May 03, 2013
"As we Time Management Magazine continue to bring the best of the time management world to our valued readers, we strive to make each issue better and more informative than the previous issue. Our eighth is especially packed," said Glenn Watt, Senior Editor.
Issue eight's focus is on overload. There are times in the busy world we live in that we all take on too much and become stressed and overwhelmed. This is a common problem in the business world, but too often, this problem finds it way into our home life as well.
Helping to combat this overload problem, Time Management Magazine has articles from many of the previous authors and featured guests along with several new people. Each one offers a fresh, novel insight into dealing with and overcoming overloading.
"Our eighth issue will feature articles from Jason Womack, Laura Stack, Jeff Davidson, Craig Jarrow, JD Meier, Chris Ball, David Allen, Leo Babauta Steve Prentice and Stephan Dodd. Many of them are old friends of Time Management Magazine, and a few are new contributors, so we welcome them to our ever-expanding list of contributors," said Watt.
Issue eight of Time Management Magazine will hit iPad and and iPad Mini on May 5th. If you wish to subscribe, you still have time to pick up issue seven and be ready for issue eight.
About Time Management Magazine:
Time Management Magazine can be downloaded by searching in the App Store for "Time Management Magazine," if on an iPad or iPad Mini select "NewsStand" as the category. Once the app is downloaded, on the app home screen a free special, single issue or subscription is available. Time Management Magazine is available only on the iPad and iPad Mini from the Apple App Store.
To download directly yo your iPad now, follow this link: http://bit.ly/ZSuM06.