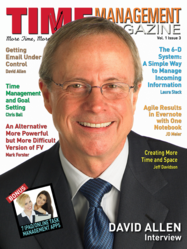 Getting a grip on the massive amount of information we all have to deal with is sure to take some stress off you as well
Winnipeg, Manitoba (PRWEB) December 03, 2012
If email, phone calls, voice mails, text messages and regular dead-tree messages are overwhelming, then this column by Laura Stack that appears in issue 3 of Time Management Magazine, will help reorganize and re-prioritize that avalanche of information.
"Laura is just the best there is when it comes to organizing the time available and making the most of it," said Glenn Watt, senior editor at Time Management Magazine. "For more than 20 years, she's been an industry leader in helping businesses increasing productivity and cut wasted time. People familiar with Laura are going to want read this column and people who don't know about her are going to be very interested in what she has to say in the future."
"It's our goal to make your life more productive. The 6-D System will teach you, in a few steps, how to handle an information flow without being buried by it," Glenn Watt said. "Getting a grip on the massive amount of information we all have to deal with is sure to take some stress off you as well."
For more information about Laura Stack, visit http://www.TheproductivityPro.com or follow her on Facebook at https://www.facebook.com/ProductivityPro and Twitter at https://twitter.com/laurastack.
Subscribers get a 40 percent discount on the cover price of the magazine and a 1-month free trial. Sign up for the mailing list and receive an additional free month. That's two extra months of Time Management Magazine absolutely free.
ABOUT TIME MANAGEMENT MAGAZINE - Time Management Magazine can be downloaded by searching in the App Store for "Time Management Magazine", If on an iPad or iPad Mini select "NewsStand" as the category. Once the app is downloaded, on the app home screen a free special, single issue, or subscription is available. Time Management Magazine is available only on the iPad and iPad