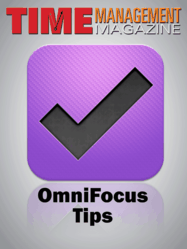 The ability to provide subscribers with updates after an Issue is published is an uncommon feature in Newsstand that we plan to make use of
Winnipeg, Manitoba (PRWEB) November 06, 2012
This Time Management Magazine issue provides viewers with insight into the usefulness of the OmniFocus iPad app and some some step-by-step instructions and how-to's on its use. These guides come in both written and video format.
OmniFocus is a task management app available from the Apple App Store. It's been designed to help "Keep track of tasks by project, place, person, or date." This means that the app has some unique tools, such as its map function which can help to organize tasks by their distance and show the tasks on an area map. This feature can also notify the user when they are near to one of the task areas.
The issue explains how to integrate emailed tasks into the OmniFocus app by telling viewers how to send emails to OmniFocus. There is also an article to guide readers through the use of the app's Forecast task view. Many of its functions and settings are explained and elaborated upon.
Time Management Magazine will be providing updates to the OmniFocus Tips issue periodically throughout the year . "The ability to provide subscribers with updates after an issue is published is an uncommon feature in Newsstand that we plan to make use of."
About Time Management Magazine:
Time Management Magazine can be downloaded by searching in the App Store for "Time Management Magazine", If on an iPad or iPad Mini select "NewsStand" as the category. Once the app is downloaded, on the app home screen a free special, single issue, or subscription is available.
Time Management Magazine is available only on the iPad and iPad Mini from the Apple App Store.