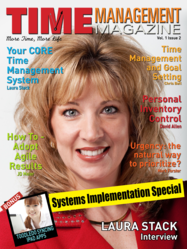 Reduce tasks, increase results
Winnipeg, Manitoba (PRWEB) November 09, 2012
Laura Stack has 20 years of experience as a productivity expert and has appeared on the CBS Early Show, CNN, USA Today and New York Times. She is the author of the book What To Do When There's Too Much To Do, and most recently featured in Time Management Magazine's second issue. The magazine's video interview with Laura Stack is now available on YouTube and in it she provides detailed answers to questions regarding her new book, inspiration, company, and some of the tools and methodologies she uses to manage time.
In the first part of the interview, Laura Stack shares with viewers where she got the idea for her book What To Do When There's Too Much To Do. She explains why she emphasizes doing less to achieve more rather than doing more with less. "Reduce tasks, increase results." Laura also further explains her Six Step Productivity Work Flow.
In continuation, Laura shares her personal experiences using the methods of her book, expressing how large an impact sleep and exercise capacity can have on one's life and productivity. She also shares some of her favorite tools for reducing text keystrokes, and implementing auto-logins to numerous accounts.
Viewers also get to hear Laura Stack's personal stories about how her company got its name, who her biggest inspiration is and what her passions are in life. And in closing Laura Stack reveals she will be releasing a companion novel to What To Do When There's Too Much To Do, moving on from a worker's point of view, to a leader's.
About Time Management Magazine:
Time Management Magazine can be downloaded by searching in the App Store for "Time Management Magazine", If on an iPad or iPad Mini select "NewsStand" as the category. Once the app is downloaded, on the app home screen a free special, single issue, or subscription is available.
Time Management Magazine is available only on the iPad and iPad Mini from the Apple App Store
Time Management Magazine's YouTube Channel: http://www.youtube.com/user/Timemanagementmag