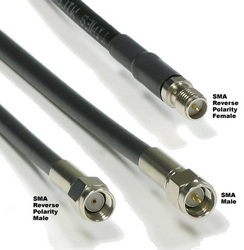 With years as a Top Rated Seller on eBay, we sold Thousands of custom LMR-400 coaxial cable assemblies with 100% positive feedback. Opening our discount on-line store allows us to pass additional savings to our customers through reduced operating costs.
Leesburg, GA (PRWEB) December 1, 2010
MPD Digital announces the opening of a new website offering wholesale and discount pricing for US Made Times Microwave LMR-400 and LMR-240 Amateur Ham CB and Wifi coaxial cables.  After many years selling Times Microwave coax cable assemblies on eBay, Amazon and Sears, MPD has opened USAcoax.com to offer substantial savings to individuals who wish to purchase custom cable assemblies for their needs.  USAcoax.com's unique ordering and selection process allows users to select either LMR-400 or LMR-240 cable by Times Microwave in any length. After selecting their cable type, buyers have a choice of over 160 connector combinations to meet their specific operating requirements. USAcoax offers an industry first guarantee on it's products. If any coax cable assembly fails to meet a customers needs USAcoax will provide a 100% refund to include shipping costs both ways.
USAcoax sells and uses Times Microwave Systems coaxial cable. Times Microwave has invested millions in researching and developing the cable the rest of the world is copying. When compared with old style RG type braided cables, LMR-240 or LMR-400 coaxial cables offer far lower loss and better RF shielding than RG8/U, RG8x and RG-58 50 Ohm Cables. In order to attain the low loss offered by standard hard corrugated coax cables but achieve the flexibility needed in today's Ham and CB installs, Times Microwave produces both LMR standard and ultraflex type cable. Times Microwave's LMR240/400 cables are the leading technology employed by Ham, CB, and WiFi users worldwide.
MPD Digital and USAcoax have lowered their prices on LMR-240 for the Holidays ; Times Microwave LMR-240 is designed to fill the niche for flexible, smaller diameter, ultra low loss coax cable for antenna cables or jumpers. LMR240 coax uses the same standard coaxial connector types as LMR-240 and for many applications will provide the strongest signal retention with the lowest loss.
Worldwide copper prices have risen over 300% in the last 18 months increasing production costs substantially, encouraging some producers to cut corners. MPD Digital adheres to strict coax selection and quality control procedures during production and as such has chosen to offer only coaxial cable manufactured only in the Unites States. The company does not use any components produced in Communist Countries. In addition to individual Ham and CB buyers, the current LMR400 coax cable customers include US Army and Marine Corps Firebases in Afghanistan and US Military facilities worldwide. USAcoax and MPD Digital is proud to support our Military and provides substantial corporate support to the Wounded Warrior program and other service oriented groups.
MPD Digital is wholly owned by Kimberly Distribution LLC, a Women & Veteran Owned Small Business. USAcoax.com is an operational e-commerce web site Selling US Made Times Microwave Ultraflex and standard lmr400 and lmr240 cables. The site employs full encryption security and payment processing by Wells Fargo Bank or Paypal. MPD Digital does not retain or have access to customer financial information with all purchase transactions conducted directly through integrated banking portals.
###