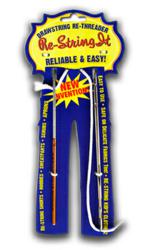 Overall pro-active organization – the act of simply knowing where things are at any given moment – can save time and prevent frustration.
(PRWEB) January 31, 2013
CWA Enterprise's award-winning Re-String It product saved people time in 2012 from having to re-thread the drawstring back into their sweatpants using a safety pin. Now, they would like to offer these 10 time saving tips for 2013.
From reading emails to cleaning the kitchen, most people would like to save time. Here are 10 ways people can save time in the new year.
1. Emails: read once and delete or file away. Going back to the same email over and over again, thinking about how to respond can waste time. Writing the response immediately helps users get through a full inbox faster. Note that emailers don't necessarily have to hit that Send button right away – especially if it's an emotionally charged email. The suggestion to wait 24 hours before sending an angry note still applies here, but the idea that reading and deleting saves time is a proven one.
2. Pre-sorted Laundry Baskets: As the days go by and the dirty laundry piles up, having to sort the pile into lumps of whites, darks, and delicates can take hours. Using a laundry bag or basket that is designed to store each of these separately helps greatly with this chore – even if it requires some additional user-training up front.
3. Home and office organization: This is the last thing people might want to hear, but it's the first time-suck they usually encounter as they go about their day. How many hours have been wasted looking for car keys? While there are new inventions to help people find their lost set of keys, overall pro-active organization – the act of simply knowing where things are at any given moment – can save time and prevent frustration.
4. Notes to Self: While there are plenty of electronic gadgets that will do this exact same thing, taping a note to a mirror is age-old trick for remembering an errand or task. Forgetting to run an errand and having to double back to make up for it is another time-waster.
5. Checklists: Like the notes to self, having a list of items or tasks can save money on gas and time. Those who are still reluctant to use a phone or digital device to aid in this can still rely on hand-written notes, provided those aren't left at home as well.
6. Child labor: Domestically speaking, children can learn at a young age to pick up their toys when they are done playing with them. In other words, delegation saves time at home and at work. Find tasks that can be done by other people.
7. Prepared meals for the week: While sandwiches in school lunch boxes can't be pre-made several days in advance, larger meals like a lasagna dinner can be cooked on the weekends and frozen for later. Snacks can be broken down into sandwich bags early in the week so that task doesn't need to be done each morning.
8. Generic gifts: Not to sound disingenuous, but gifts that appeal to a wide variety of recipients can be purchased early in the year and saved. This will save the time of having to run out at the last minute and the pressure to find something perfect. Having a handful of great finds waiting in the closet is a great way to appear to be prepared to friends and family.
9. Spare parts: While keeping a clean car and purse is important, letting a few items accumulate in each of these places can be a real time saver. For example, leave a spare jacket or flip flops in the trunk of the car for emergencies and leave a notepad, pen, and headache medicine in a childproof container in a purse.
10. Fill the tank when it's half empty: It's Murphy's Law that the tank is empty the same day everything else goes wrong. By having a full tank of gas, or at least enough to get to a destination, then a gas station, people can save time as well as additional stress.
About the Company:
Re-String It is a product of CWA Enterprises, which was created to bring the perfect must-have domestic tool to market. Re-String It is a heavy duty, versatile re-stringer that is easy to use and won't damage clothing. The rounded edge on the adjustable loop enables use on delicate materials. Visit http://www.re-stringit.com for more information.