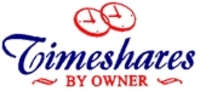 Orlando, FL (PRWEB) May 04, 2011
Timeshares By Owner® has several advertising platforms for motivated timeshare sellers/renters. These platforms enable motivated timeshare owners to sell or rent their timeshares fast and without having to pay commissions to a real estate broker.
Our Featured Property section highlights several select properties available. This section of our website is featured on the home page and has been greatly improved as a result of the total renovation of our website. The Prime Rotation service places certain properties above others in the timeshare search results; it is equivalent to an optimizing tool in search results. Timeshares by Owner also has a Hot Timeshare Deals section on the website, in our syndicated radio show and in our Timeshare Trader™ magazine. The Hot Deals are advertisements that showcase timeshare properties for sale or for rent by motivated sellers and renters.
Timeshares By Owner® is the leading timeshare advertising company for owners that want to sell or rent their timeshare without a real estate broker. The Timeshare Trader™ magazine is distributed to thousands of resort locations throughout the USA and it showcases timeshares for sale/for rent by owner in a printed magazine format.
ABOUT TIMESHARES BY OWNER
We have been in business for over 13 years and are dedicated to helping timeshare owners sell or rent their timeshares and to helping others find the perfect timeshare to rent. For more information on Advertising Platforms for motivated sellers and renters of vacation properties, contact Timeshares By Owner at 888-707-8463, sales@TimesharesByOwner.com or visit our website at http://www.TimesharesByOwner.com.
###