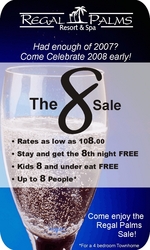 I wanted to join a hospitality company that encourages me to think outside the box, providing me with a creative outlet not normally associated with my field of expertise
Orlando, Florida (PRWEB) August 31, 2007
Rafael A. Blanes joins The Superior Group, LLC Group. Rafael will be overseeing and spearheading revenue productions for all of The Superior Group's new and existing properties through various channels and partnerships. "I wanted to join a hospitality company that encourages me to think outside the box, providing me with a creative outlet not normally associated with my field of expertise," he said.
The "8" Sale information can be obtained exclusivley from reservations @ regalpalms.com or by calling 877-477-2567, provides families the one of a kind opportunity to experience the value Regal Palms Resort and Spa, two floor townhouses. This unique one-of-a kind resort offers spacious and fully equipped 3 and 4 bedroom accommodations that can sleep 7 to 9 people comfortably all surrounding a beautiful resort complex, a trendy new restaurant and a very successful Spa http://www.regalpalms.com. "We knew that this multi-million dollar project would be successful, but surprised as to how popular these townhomes have become," said Jeffrey Baldasarre, Vice President Hospitality Sales and Marketing.
The Superior Group LLC has found a new niche market with the opening of Regal Palms Resort and Spa http://www.regalpalms.com just outside Orlando, Florida. "We are very excited about the positive responses the public has given our resort and look forward to adding our newest resort Regal Oaks Resort and Spa at Old Town, Florida which is slated to open in the fall of 2007," Blanes said.
The Regal Palms Resort and Spa, open for 24 months has already received numerous awards, The Bentley 5- star award for Best Resort Marketing and The Bentley 4-star award for Best Property Development along with the AAA 3- diamond award and The Guild of Florida Owners 4-star award. The resort has been so successful that their unique appeal has earned them an appearance on the premier episode of the E! Entertainment Style program "My Celebrity Home" which aired in April '07, the nationally syndicated Wheel of fortune and The Price is Right. The Regal Palms Resort and Spa is also slated to premiere on Merv Griffin's Crossword a new game show premiering September 2007.
Regal Palms Resort and Spa has a broad range of appeal from all over the globe. Families, who want to see all the attractions that Orlando has to offer, golfers who want to experience some of the best golf courses around and the weekend warriors who want to try something new.
Please join the Superior Group, LLC and the Regal Palms Resort in welcoming Mr. Rafael A.Blanes
For more information regarding our "8" sales contact: reservations @ regalpalms.com
http://www.regalpalms.com
877-477-2567
###