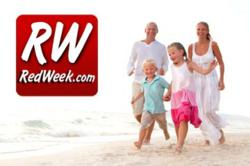 "I would highly recommend checking out RedWeek for all of your vacation needs,"
Seattle, WA (PRWEB) September 27, 2011
Timeshare marketplace RedWeek.com is mobilizing the blogger community to spread the word about timeshare rentals. Via a new promotion through Tomoson Blog, RedWeek is offering a free one-year membership to bloggers who write about the benefits of renting a timeshare on RedWeek.
"I would highly recommend checking out RedWeek for all of your vacation needs," writes Melissa Roach on the Frugal Fabulous Finds blog. "There is nothing better than saving you and your family money when it comes to traveling. Not only can you find great resorts at a low price, but you can compare as well. Instead of staying at a hotel with limited features, why not stay at a resort that offers spacious room, free activities and fun for the whole family."
As part of their Tomoson promotion, RedWeek is authorizing qualified bloggers to give away a two year RedWeek membership to one lucky reader. Bloggers who wish to connect with RedWeek via Tomoson can do so by going to Tomoson.com, searching for RedWeek.com, and clicking on the "Apply to Review Product" link.
Tomoson leverages the power of the Internet by influencing the influencers: bloggers. Bloggers create large amounts of content which people follow and read religiously. The Tomoson site brings bloggers and businesses together, and creates a way of organizing the reviews and giveaways for both parties.
"We get many enthusiastic reviews from Tomoson users, especially those new to RedWeek and timeshare rentals," said Michael Reeps, director of web design and development at RedWeek.com. "For their part, Tomoson bloggers and users learn about an exciting family vacation option."
To learn more about RedWeek.com or timesharing visit http://www.redweek.com.
About RedWeek:
RedWeek® is a registered trademark of RedWeek, Inc. RedWeek.com is a member-supported marketplace for timeshare rentals and resales. You can find reviews, ratings, prices, availability, full-service exchange, and complete resort descriptions for all timeshare resorts to make vacation selection easier. Boasting an A+ Better Business Bureau rating, RedWeek has more than 1.5 million registered users and includes 5,000 timeshare resorts worldwide.
# # #