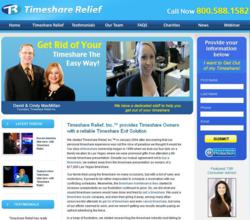 What I like about the Web site is that it invites people into the company and gives everyone the ability to see exactly who we are.
Torrance, CA (PRWEB) July 21, 2010
Timeshare Relief, Inc. reveals their new Web site (http://www.timesharereliefnow.com) today, making it easier for customers to navigate. The new Web site has several added features including, most notably, a video tour of the corporate headquarters on the home page.
The new site has been entirely redesigned to provide a faster, more user-friendly layout. The Web site's navigation has been streamlined through the organization of specific areas of interest, giving it a sleeker, cleaner look.
Prior to the update, the site had a significant amount of information per page and less total pages. The new site has a focused amount of specific, congruent information per page and more pages on the site. The aim is to give every specific section its own area, clearing up any confusion which makes the site navigation more intuitive, improving the overall functionality of the Web site.
Marcus Gillette, Senior Vice President of Sales at Timeshare Relief, regales his opinion on the new site, saying, "What I like about the Web site is that it invites people into the company and gives everyone the ability to see exactly who we are." Gillette is speaking not only about the site's navigation, but also the most noticeable feature on the top of the home page, an office-by-office tour of Timeshare Relief's headquarters in Torrance, CA.
The video depicts many of Timeshare Relief's staff members in action and highlights the people behind the scenes who make it all happen. It was inspired by a prospective client who had been victimized by the timeshare resale industry while trying to sell a timeshare and had been unsuccessful in finding a legitimate way to get rid of a timeshare. Cindy Martin MacMillan, Vice President & Co-Founder of the company, gave him a tour of the entire Timeshare Relief headquarters and he is now one of Timeshare Relief's satisfied customers.
About Timeshare Relief
As the world's foremost Timeshare Exit Solution, Timeshare Relief alleviates clients of their burdensome timeshare contracts. Timeshare Relief has helped more than 45,000 timeshare owners transfer more than 52,000 timeshare contracts.
Timeshare Relief was founded in 2004 and is not a timeshare resale company. Timeshare Relief guarantees their clients an exit solution that will get them out of their timeshare contracts as long as the timeshare is paid off and maintenance fees are current. For more information, please call 1-800-588-1582.
# # #