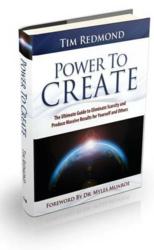 Tim's personal experience in running a large organization and his manner of delivering his insights resulted in immediate and sustained improvements in my organization," Brian Klemmer
Tulsa, OK (PRWEB) September 11, 2012
Tim Redmond, author of the book Power to Create, and founder of the Redmond Growth Initiatives, has through his career, instituted turnaround strategies for failing businesses both in this country and overseas.
His methods include bringing transformation to organizations through his innovative, insightful and entertaining training approach on rapid-growth mindsets, wealth creation strategies and building top performance teams.
Tim's multi-faceted business and leadership development background and his extensive experience in coaching, consulting and leading dynamic interactive seminars in companies allows him to effectively address the problems facing any business that needs a turnaround.
Says Tim, "With almost every business client I have ever consulted, I have found one thing to be true and that is: There is huge growth potential in their core business right now! It is then up to us – working closely together – to find that potential and tap into it."
One of the first strategies Tim presents to a company is the need for calculated and careful planning. Effective plans release the energy and greatness to impart value into a business and the lives of all who are involved.
Tim points out that "Planners tend to win. Planning is a process of identifying and pursuing one's and pursuing ones personal and organizational purpose, key goals and values. Planning compels you to commit to a number of decisions. This is especially helpful when one is confused and not sure what direction to take." Failure to plan is one of the key reasons for a business losing momentum.
Another strategy Tim uses is to encourage the company leader holds self and others to a standard of accountability, which works hand-in-hand with using a well-thought-out plan. "I help leaders understand what business is all about," Tim explains. "It is creative compassion in action serving other people. It is focused on creating "WOW-level" value. It is aimed at giving others a significant experience with that value. This results in building long-term, trustworthy relationships because the service "wows" the clients." But it all begins with accountability.
Yet another strategy used in Tim's turnaround consultation is pinpointing the leaks in revenue that drain off profits. Often it can be traced back to the need for effective and efficient systems.
Very rarely does anyone successfully grow their business by expanding when they are currently operating at a loss. Losses usually reflect sloppy systems which produce even more losses that can destroy the business if the faulty systems are not corrected. It's Tim's experience and expertise that allow him to locate those faulty areas.
With almost 30 years of experience growing start ups into multi-million dollar businesses, Tim works side by side with company leaders in dreaming, planning, implementation, and ongoing decision making. As a confidential expert, he interacts throughout each month guiding, directing, and instructing along the way. His guidance offers returns that pay the investment back many times over.
About Tim Redmond
Using over 25 years of experience in growing multi-million dollar organizations, coaching leaders, and intensely studying leadership, business, and the wealth creation process, Tim brings powerful, positive change to individuals and organizations through his innovative, insightful and entertaining training approach. He earned his CPA while working at PriceWaterhouseCoopers before joining Tax and Accounting Software Corporation and Intuit, where he served for over 15 years.
A gifted author and speaker, Tim has published a multi-media curriculum, books and numerous training seminars designed to strengthen and expand the leadership and wealth creation capacities of leaders and teams worldwide.
About the Redmond Leadership Institute
Founded by Tim and Sandy Redmond, Redmond Leadership Institute (RLI) is a non-profit organization with a passion to unlock and release the greatness in people and organizations. RLI focuses on equipping leaders with powerful tools that produce dramatic results. They speak at churches, organizations, seminars and host conferences in the US and overseas; particularly in developing nations with huge potential.