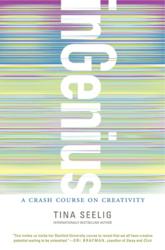 "Tina has shattered the misconception that you can't increase creativity. In this book, she presents breakthrough ideas on how to understand and boost your ability to innovate."
— Guy Kawasaki, author of Enchantment and former chief evangelist of Apple
San Francisco, CA (PRWEB) April 17, 2012
Creativity, many believe, is an elusive and mysterious trait—you are born with it or you aren't; there's no teaching, fostering, or innovating the creative spirit.
But according to Tina Seelig, Executive Director of the Stanford Technology Ventures Program, this approach to creativity is outdated—and absolutely incorrect. In her new book inGenius (HarperOne; April 2012), Seelig illustrates how creativity is both an asset and a skill, one that is easily taught and learned. Offering a practical set of tools everyone can use to radically enhance ingenuity, Seelig also provides a clear-cut guide to help foster innovation and bring an entrepreneurial mindset to all aspects of life.
Introducing a revolutionary new model she calls the "Innovation Engine," Seelig explains how creativity is generated on the inside—and how it is influenced by the outside world. Taking into consideration factors such as knowledge, attitude, environment, and culture, she demonstrates how creativity can be fueled and enhanced, leading to an outpouring of fresh ideas from individuals, teams, and organizations.
And why is this so crucial? Because thinking creatively pushes us to look beyond the limits of what initially seems possible. Creative thinking propelled companies like Twitter, Apple, and Facebook from modest startups to global icons; it allowed Amazon to move beyond physical book delivery and embrace a lucrative new technology; and it will open up an exciting new world of possibilities for anyone looking to make a mark in the business world and beyond.
In inGenius, Seelig reminds us that creativity can and should be as natural as breathing—and just as important to leading a successful and fulfilling life. With practical and easily adoptable advice, it is an essential guide to thriving in an ever-changing world.
About the Author
Tina Seelig is the internationally bestselling author of What I Wish I Knew When I Was 20. She has a Ph.D. in Neuroscience from Stanford and is the Executive Director of the Stanford Technology Ventures Program, which is the entrepreneurship center at Stanford University School of Engineering. Seelig also teaches a course in the Department of Management Science & Engineering on Creativity and Innovation. In 2009, Seelig was awarded the highly prestigious Gordon Prize for her innovative work in technology, engineering, and education.
Praise for inGenius:
"Tina invites us into her Stanford University course to reveal that we all have creative potential waiting to be unleashed." – Ori Brafman, coauthor of Sway and Click
"Tina has shattered the misconception that you can't increase creativity. In this book, she presents breakthrough ideas on how to understand and boost your ability to innovate."
— Guy Kawasaki, author of Enchantment and former chief evangelist of Apple
"Who said creativity can't be taught? It can, and Tina has done it! She has created a new model, the Innovation Engine, that will change the way you think."
— Steve Blank, entrepreneur and author of The Startup Owners Manual
"In a world that's in constant flux, creativity and innovation are essential qualities for successful executives and industry-leading companies. Tina has shown that we all have the ability to mobilize our creative spirit."— Chip Conley, Founder of Joie de Vivre Hospitality
and author of Emotional Equations
"In this groundbreaking work, Tina has codified her years of teaching at Stanford and proves that anyone can be creative." — Nancy Duarte, author of Resonate
"Tina Seelig has written a provocative field guide to twenty-first-century creativity, with her energy and enthusiasm bursting through on every page. We all could use a little extra spark of creativity, and this book helps show the way." — Tom Kelley, general manger of IDEO
and author of The Art of Innovation
inGENIUS
A Crash Course on Creativity
By Tina Seelig
HarperOne, an Imprint of HarperCollinsPublishers
April 2012 | $25.99 | Hardcover| ISBN: 9780062020703
# # #