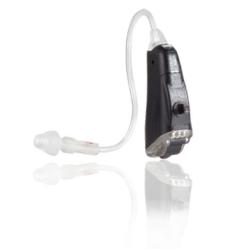 It is our mission to deliver cutting edge hearing aids and tinnitus treatment technology.
New Orleans, LA (PRWEB) April 30, 2013
General Hearing Instruments, Inc. announces the release of the Tranquil Simplicity II, a sound generator featuring a new multi-function, toggle control for tinnitus relief. It offers the same great sound generator technology, as the original Tranquil Simplicity, but now adds a second low frequency pink noise. Quick touches of the toggle controls the volume, and holding the toggle in either direction changes the sound profile.
This model features a #10 battery with 150 hours of battery life, a soft free-field dome, a micro-poly tube, and a miniature OTE case. Designed for extreme comfort for extended wear time and ease of use.
"We are excited to introduce an improved model to the market," says Roger Juneau, president of General Hearing Instruments, Inc. "It is our mission to deliver cutting edge hearing aids and tinnitus treatment technology."
The Tranquil Simplicity II OTE is one of many models designed and developed by the company that helps to reduce the symptoms of Tinnitus or ringing in the ears. Tinnitus can severely impact the everyday lives of those who suffer from it. Tinnitus is a fairly common condition. According to the American Tinnitus Association (ATA), there are approximately 50 million people who experience mild to severe symptoms. Over 12 million people in that group will require medical attention, devices, and therapy to cope with this affliction. It can be caused by hazardous noise exposure, aging, or sinus and ear infections. Other symptoms are caused by diabetes, dental problems, thyroid disorders, and some medications. Even head trauma and injury could cause tinnitus symptoms.
General Hearing Instruments, Inc. has been manufacturing tinnitus products longer than any other manufacturer. Since, 1985, the company has been designing and developing therapy devices and other hearing related products. To further promote the advancement of hearing technology, the company funds extensive research projects with professionals and universities. All instruments are handcrafted in the United States. They are also proud to provide devices to the men and women who have served America in the armed forces, working with Veteran Affairs to provide the product to military troops returning from war.
"As tinnitus is a common problem facing our returning troops, General Hearing is very pleased that we can do our part to make these devices available to veterans of war," says Juneau.
For more information about hearing devices, tinnitus products, and General Hearing Instruments, Inc. please visit http://www.generalhearing.com. Explore different products and find a local audiologist to consult with. Contact the company by calling 800-824-3021. General Hearing offices are located at 175 Brookhollow Esplanade in Harahan, LA 70123-5101.
About General Hearing Instruments, Inc.
General Hearing Instruments, Inc. is a Harahan, LA, company that manufactures hearing aids and tinnitus devices with top quality acoustics, design, technology, and craftsmanship at an affordable price.