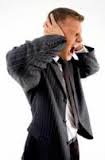 This orally administered spray can be used two to three times daily.
Seattle, Washington (PRWEB) April 04, 2013
Millions of men and women now suffer from conditions like ringing in the ears that can be difficult to treat. Relief is now being offered by one company online by lowering the price of its treatment spray. The TinnitusSpray.com company is now offering a web-only discount for all online sales of its Tinnitus treatment spray solution at tinnitusspray.com.
Tinnitus is one condition of the inner-ear that can be expensive for some to treat medically. The amount of testing and procedures that are required to make a medical diagnosis can be difficult for someone without insurance. The completely safe method of using the new spray solution available is one method that some adults have used to reduce the audible tones.
The TinnitusSpray.com company developed its spray as an alternative to medical treatments. This spray is not administered into the ear canal. A new and faster method of absorption into the blood stream is offered with this spray. This orally administered spray can be used two to three times daily.
The new web discount created for this product is designed to provide an inexpensive way that adults can use to find relief. All orders that are submitted online are eligible for the new lower pricing. The updated shopping cart system now in use by this company has helped to simplify the ordering process. Expediting shipments are now part of the offerings that are now provided with the sale of this recently released spray solution.
About TinnitusSpray.com
The TinnitusSpray.com company has designed, developed and markets its spray solution for reducing and eliminating inner-ear tones and other audible noises. This company provides a natural approach to Tinnitus and is now one of the leading suppliers of treatment solutions online. This company uses natural ingredients to create is products and constantly monitors the success rates of usage. The TinnitusSpray.com company is staffed by health and wellness experts who work together to provide better health, wellness and beauty products to adults around the world.