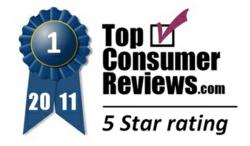 We're pleased to receive TopConsumerReviews.com's highest rating... Thank you for recognizing our efforts and success!
Overland Park, KS (Vocus/PRWEB) February 09, 2011
TopConsumerReviews.com recently awarded their highest five-star rating to Tinnitus Control, a safe and effective Tinnitus product available without a prescription.
"We're pleased to receive TopConsumerReviews.com's highest rating," said Gary Mcnelley, President of Market Health. "With our all-natural homeopathic formulas, Tinnitus Control safely eliminates the symptoms of Tinnitus quickly and effectively. We've brought relief to thousands of satisfied customers, are proud of our product. Thank you for recognizing our efforts and success."
Persistent ear ringing is a really frustrating condition that millions of people suffer from at some point in their lives. This condition is called tinnitus and can be the result of loud sound damage, a head injury, sinus problems, stress, and more. While the medical community understands the causes of tinnitus, the fix is generally less clear. Sufferers can become desperate to shut off the ever-present ringing sounds permanently. People who have been diagnosed with tinnitus by a doctor, however, are often shocked to find out that very few treatments exist today. Often they are told to "wait and see" if the problem clears up on its own. As an alternative, thousands of people are finding success by turning to natural tinnitus treatments.
"Tinnitus Control does a great job of alleviating tinnitus symptoms," said Brian Dolezal, of TopConsumerReviews.com. "This two-step solution involves an all-natural homeopathic spray, which addresses the immediate ear-ringing issues, and an all-natural supplement which improves the health of the ears. Together these products address both the short-term and long-term needs of tinnitus sufferers."
To find out more about Tinnitus Control and other tinnitus products, including reviews and comparison rankings, please visit the Tinnitus category of TopConsumerReviews.com at http://www.topconsumerreviews.com/tinnitus.
About Tinnitus Control
Market Health, the makers of Tinnitus Control, was founded in 2002 and is a trusted name in Health and Beauty. A proud member of the Natural Products Association, they are dedicated to providing safe and effective products that help people supplement their lives. By combining the latest breakthroughs in nutritional science with the finest ingredients sourced from around the world, they continuously rise to the challenge of supplying the consumer with nutritional formulas that are unsurpassed in quality and value.
About TopConsumerReviews.com
TopConsumerReviews.com is a leading provider of independent reviews and rankings of hundreds of consumer products and services. From logo design and menopause, to online divorce and payday loans, TopConsumerReviews.com delivers in-depth product evaluations in order to make your purchasing decision easier.
# # #