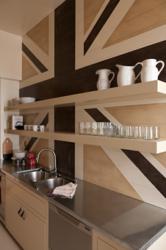 We wanted to keep the tones soothing and neutral to compliment the functional nature of the space but also wanted to add a bit of humor to keep it from getting too serious
San Francisco, CA (PRWEB) April 25, 2012
Marin based interior designer Tinsley Hutson-Wiley of Tinsley Hutson-Wiley Interior Design is thrilled to be participating, for the second consecutive year, in the 2012 San Francisco Decorator Showcase. Presented with the challenge of a dark and narrow pantry off the formal dining room, Tinsley has partnered with Allison Bloom of Dehn Bloom Design, to create a highly useful and cheeky take on a pantry that respects the history and tradition of the houses' design yet integrates modern amenities and clean lines.
Utilizing local vendors, Tinsley and Allison have created a pantry any butler (or family) would love. Sausalito based Heath Ceramics supplies neutral beige subway tiles in a matte finish that act as a highly functional backsplash to the newly installed gas range, brushed stainless steel hood and counters. Sourcing kitchen accessories from March on Sacramento Street, March has supplied a variety of sizes and shapes of cutting boards that do double duty as both wall art and cooking tool. Spinneybeck supplies the chic drawer pulls in a dark brown leather, that are easy to grasp and hold up to daily use. Decorative painter Willem Racké painted on the opposite pantry wall a full size Union Jack flag, but in the brown and beige palate of the room, adding a dose of fun to the functionality of the space.
Tinsley says" We wanted to keep the tones soothing and neutral to compliment the functional nature of the space but also wanted to add a bit of humor to keep it from getting too serious."
The 2012 San Francisco Decorator Showcase is open from April 28-May 28, 2012 at 2020 Jackson Street in San Francisco. The house is open everyday of the week except Mondays. The hours are: Tuesday, Wednesday, and Saturday: 10:00 a.m.–3:00 p.m. (last entry), Thursday and Friday: 10:00 a.m.–7:00 p.m. (last entry), Sunday and Memorial Day: 11:00 a.m.–4:00 p.m. (last entry), CLOSED MONDAY (except Memorial Day).
Tickets are $30 each, seniors $25. More information on this annual charitable event benefiting the University High School scholarship fund, can be found at http://decoratorshowcase.org/
About Tinsley Hutson-Wiley
Tinsley Hutson-Wiley is a San Francisco Bay Area-based interior designer, but she credits her Southern background and a plethora of artists in her family as a major influence on her design style and appreciation for art. She admires the way that Southerners incorporate family heirlooms and modern accent pieces into their homes to create the unexpected. Her passions for travel, art, and architecture have contributed to her unique style that respects tradition and embraces the new. She also incorporates sustainable living into each of her design projects and is recognized as a certified green building professional. In between designing for showcase homes, Tinsley has been completing two full-scale modern renovations in Marin County. Watch for her feature in Traditional Home magazine, hitting newsstands May 2012.