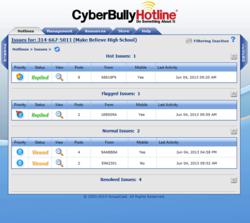 With v2.0, users will have a more robust and efficient web-based system to receive and manage bully reports – while maintaining the anonymity of the incident reporter.
St. Louis, MO (PRWEB) June 06, 2013
SchoolReach, a division of GroupCast, LLC, today announced the release date of June 21, 2013 for the next version of the CyberBully Hotline. The release of Version 2.0 represents the next generation of anonymous tip line technology which offers schools and school districts a safe, secure and anonymous means to report bullying incidents in school environments.
"With v2.0, users will have a more robust and efficient web-based system to receive and manage bully reports – while maintaining the anonymity of the incident reporter," said Joe Moore, chief technology officer of GroupCast. "We also know that administrators or those responsible for monitoring the hotline want to be able to prioritize incident reports. This is why we built keyword flagging into this next version."
The CyberBully Hotline also provides schools with promotional awareness materials, professional development resources and access to counseling professionals who can help support administrators when they need guidance.
President Joe Palacios added, "Too often kids won't report bullying for fear of retaliation and so we've taken that extra step beyond confidentiality to ensure whoever is reporting bullying remains anonymous."
The new version is free to current CyberBully Hotline customers who are also being offered free training during the weeks of June 10th and 17th. Here are just a few of the new features:
Keywords and Flags: Version 2.0 introduces keyword flagging to help administrators prioritize and manage messages. For example, if a school administrator receives two hotline messages that say, "I don't like the way someone looked at me on the bus today" and, "a student has a gun in their locker", the CyberBully Hotline platform will prioritize and urgently flag the message that includes the keyword "gun."
Auto-Resolve: A "message resolved" box has been incorporated into the message management area of CyberBully Hotline. This new function helps administrators better manage the many messages and threads that are active or inactive in the system. Using the Auto-Resolve function, administrators can either manually "resolve or close" a thread or the system will do it automatically after 30 days of no activity. Also, if a reporter submits another report, the original message thread is automatically moved from a school administrator's "resolved" box back into their main active message area.
Collaborative Notes: School administrators who have access to the CyberBully Hotline will be able to pass private notes back and forth within the system, collaborating on situations and actions taken to resolve issues. Also, this private messaging capability enables better tracking and response timing within the communications string for documentation.
For more information about the CyberBully Hotline go to http://www.cyberbullyhotline.com, http://www.schoolreach.com or call 1-800-420-1479.
About CyberBully Hotline
The CyberBully Hotline, named Best New Product by Tech & Learning Magazine in 2012, is an industry-leading bullying and incident reporting software program used by schools nationwide to facilitate anonymous communications which can help keep schools safer. The CyberBully Hotline is a service of SchoolReach, a national leader in K-12 school notification and communications technology solutions.