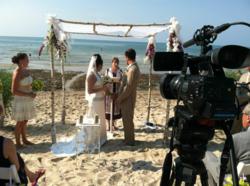 You'll never regret investing in professional videography for your wedding, but there are several ways to make your video, and your first day as a married couple that much better
(PRWEB) November 19, 2012
1. Light – Every camera ever made for film or video works on the same principal: They 'record' light information. The best cameras are more sensitive and can record in lower light conditions, but even the best cameras need a good deal of light to work at their best. There are quite a few gorgeous churches, synagogues, and inns especially in New England, but they were designed in a time before modern heating and efficient windows and tend to be dark. The lighting they do have tends to be directly from above and can give people shadowy eyes. A good rule of thumb to consider when choosing a ceremony and reception venue is the brighter, the better. The best venues are bathed in natural light through windows or professional lighting. Light is important for receptions as well. Often, when the lights go down, your image quality will too, becoming grainy. An interior dance floor should have a strong, directional light raking across it to give your first dance a dramatic, cinematic effect. This can be done for little cost by your videographer or by the venue itself. Then, if possible, add in some party lighting such as strobes, and you have an absolutely dreamy dance floor that will really shine in high definition video.
2. Photographers vs. Videographers - Slowly but surely, wedding photography is being replaced by videographers, who can pull screen shots from their video that, on high definition cameras, are comparable to pictures. However, most brides have both a photographer and videographer. When hiring your photographer, make sure he or she has worked on a wedding with videographers. Inexperienced photographers will mindlessly wander in front of video cameras, blocking important moments. In rare cases, some photographers will not work on weddings with videographers, and when they do, make sure to use their every opportunity to thwart the videographer. Both photography and videography are creative fields that need space to operate at their best and true professionals will cooperate and produce the best wedding experience at your wedding. A great way to ensure you are hiring a photographer that will work well with your videographer is to find vendors that have both photography and videography in one bundle.
3. Keep Guests out of the Way – Invariably, every wedding has that uncle or cousin that wants to take his or her own photos or video of the wedding day, and generally that's fine. However, more often than not, that good-natured relative will wander into the videographer's space, blocking important moments. Sometimes flash photos obscure the video as well. In a couple of instances, people have jumped into the aisle, right in front of the bride as she processes into the ceremony, and blocked the videographer's shot. Don't let it happen to you! You hired professionals to capture your wedding and you should protect your investment. Politely suggest to your guests to refrain from snapshots during key moments in the ceremony and reception and have a dedicated photo time during the cocktail hour or dancing portion of your reception. It may seem difficult sometimes to say 'no' to your guests, but, in the end, most people enjoy a wedding more when they can relax and not have to worry about taking pictures.
4. Scheduling – It's no secret that putting together a wedding is, more often than not, a stressful experience. There are so many details to think about from flowers to seating arrangements, but there is one aspect of your wedding day where you take back a little piece of mind: The schedule. In terms of your wedding video, professional wedding videographers make themselves very mobile and make sure they can carry everything they need wherever the bride and groom go. That means they will adapt to your schedule quite easily, but there is something to be said about a more relaxed schedule. Adding a little time here or there can give a videographer the time and space to really think creatively whereas a 'go go go' schedule can force a videographer to resort to simplifying his or her shot selections to make sure all the essential footage is taken. A few extra moments has the added benefit of giving the bride and groom a little reflection time as well. It's important to savor a day as important and jam-packed with friends, family, and touching moments as your wedding day. An investment of time will never be a regret and will help take the stress out of the day and help produce an even more amazing wedding film that you enjoy for years to come.
ABOUT MCELROY WEDDINGS:
McElroy Weddings, a division of McElroy Films, is an award-winning high definition wedding videography and photography company serving all of Massachusetts and New England. Using excellent and experienced cinematographers, professional audio, and professional HD cameras such as Canon DSLRs, Sony EX, and Red Scarlet, McElroy Weddings guarantees top quality coverage of every aspect of your wedding day and beyond.