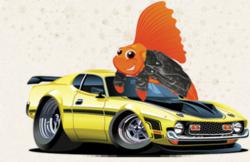 New York, NY (PRWEB) August 27, 2012
RoadFish.com men's lifestyle and finance magazine today issued their observations regarding credit tips for college students, and raising students' awareness about both the short and long-term effects of using a credit card to get by in college. RoadFish.com's take on this may help parents realize how important it is to have a discussion about finances before their son or daughter leaves for the semester, and in turn help college students better manage their money and credit.
Susan Tompor of the Poughkeepsie Journal reported this week that it's all too easy for college students to acquire a credit card when they arrive to campus, and that it's even easier to use a card with little thought as to credit history and wind up with a lower credit score down the line. Tompor states that credit card companies have not been allowed to hand out free items on college campuses as a perk to filling out a credit card application since 2010, but they are by all means still allowed to market cards on campus. Even students under the age of 21 can acquire a credit card if they can provide proof of their ability to make payments, or if they have a co-signer. Tompor points out that many students don't know enough about the world of credit at that point to really understand the impact their purchases will have on their credit history, which could lead to trouble down the road when they are out of school and looking to take out a car loan or take out a mortgage.
RoadFish.com believes that college students should start building their credit in college, but that they should be firmly guided by parental figures who know much more about finances. RoadFish.com's Senior staff writer is quoted as saying, "Personally, my parents never had the financial talk with me, and I had to figure out the world of credit and finance basically as I went along. Not an easy thing to do—plus it took me a few years to get my credit score up since I had no idea the impact that things like student loan payments and utilities had on my score. I can't urge parents strongly enough to sit down with their college-aged kids and have that talk. Talk about debt, talk about late payments and other things that can affect credit scores, talk about why they should want to keep a high score in the first place. And do it now, before school starts and the debt starts growing."
The above-mentioned Poughkeepsie Journal article reports that the CEO of credit information website Quizzle, Todd Albery, states that high credit card balances paired with numerous credit inquiries from college students are likely the two biggest areas in which college students damage their credit scores. Albery points out that students may not even realize that simply putting in an application for a new credit card will count as a hit on their credit history and damage their score. Albery cautions students to "Think twice about trying to save an extra 10% on your next purchase" by applying for a new card.
RoadFish.com advises parents to instill the understanding in their college kids that credit cards should not be used to pay for what you can't afford, but rather as a tool to build up credit and used only for routine purchases. RoadFish.com's Senior staff writer is quoted as saying, "If a family sits down and has the talk, and decides that their college student is ready for a card, it should be used responsibly. That is, not swiped when the student doesn't actually have enough money to pay for the purchase. It should be used to build up their credit history, and this is done by purchasing routine items that can be paid off every month. Not by using a credit card to pay for a pair of $100 jeans that they can't afford, and will not be able to pay off anytime soon."
Tompor states in her article that credit-scoring systems take into account the amount that is owed on a card divided by the credit limit to help determine one's credit score. With this system, the more credit line that is used, the lower the credit score is going to be. The article quotes Quizzle CEO Todd Albery by suggesting that consumers use less than 25% of their available credit, although according to FICO, those consumers who have the highest credit scores usually only use around 10% of the credit that is available to them.
About RoadFish.com
RoadFish.com is a popular online magazine for men that features articles on lifestyle, finance, travel and dating tips for men. RoadFish.com fans are typically men in their 30's and 40's who have achieved success in life at this point in their lives, and are aiming for bigger life goals. RoadFish.com men's lifestyle and finance magazine includes articles about men's fashion, luxury items, dating advice, hot chicks, and financial advice such as tips to stop overspending. RoadFish.com is owned and operated by Purpose Inc.