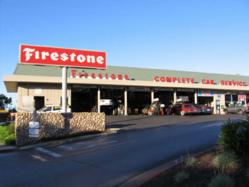 Sanford Firestone in Pacifica, Calif., will help you get back on the road quickly in your time of need
Pacifica, CA (PRWEB) January 28, 2012
January is a great time to ensure that a vehicle's fluids, tires and general maintenance are up-to-date, and Daly City tire store, Sanford Firestone is offering a free "courtesy check" with "on the rack" services and tips to guarantee safe driving.
With the economy slowing down over the past years, regular vehicle maintenance has been delayed for more important customer needs. Daly City auto repair, Sanford Firestone understands this and is currently offering a free "courtesy check" with all "on the rack" services because it values clients' cars. It is always less expensive to maintain a vehicle a little at a time than to let it degrade over time.
When checking tires, Sanford Firestone also checks the inside, where balding from alignment wear often causes some damage and can affect the performance of the vehicle. Owners can perform a quick tire inspection on their own vehicle by turning the vehicle tires all the way to the right and checking the inside of the tires for possible alignment wear. Alignment wear on the tires would appear as inside or outside edges that are balding, flared tread blocks and uneven tire wear. Sanford Firestone helps set off alignment wear by rotating tires and aligning the vehicle's four wheels.
"Sanford Firestone in Pacifica, Calif., will help you get back on the road quickly in your time of need. Our inventory includes brand name tires from top manufacturers, such as Bridgestone, Firestone, Fuzion, Michelin and BFGoodrich," owner John Sanford of Sanford Firestone said. "Sanford Firestone offers 4-wheel alignment, oil changes and other valuable automotive services at affordable prices."
For more information about any of Sanford Firestone's products or services, call 650-355-1155, view the auto repair store on the web at http://www.sanfordfirestone.com or visit 705 Hickey Blvd. in Pacifica.
About Sanford Firestone
Sanford Firestone is a top-notch auto repair shop and tire store in Daly City, Calif., that offers a variety of services aimed at maintaining a client's vehicle. From brake repairs to oil changes, tune-ups to complete check-ups, Sanford Firestone is the perfect place to visit for car-related problems. It is a legal supplier of different tire brands, such as Bridgestone, Firestone, Fuzion, Michelin and BFGoodrich.
# # #