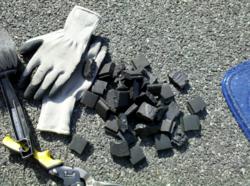 "Awesome idea...shared it with my 7 year old and he is bringing it to school for show and tell." - Gabe C.
Boonton, NJ (PRWEB) October 05, 2011
Tread Recycle has taken discarded tire treads into their own hands. The new and unique system innovatively tackles the waste, while recycling tire treads into a resourceful and useful item practically everybody owns – key chains. Currently there are individuals across several states assisting and mailing tire scraps to the New Jersey office. The process is simple; each tread is scrubbed down, the steel belt is removed, and pieces are cut into small chunks. Additionally, they are grouped and tagged by the location found. Each key chain is identified with a unique 16-18 digit code.
Now here's the cool factor – after purchasing the key chain, the user can visit the Supporters page and enter their unique code, then discover when and where the tire tread was found in the U.S.A. Moreover, visitors will see a picture of the tire tread the day it was found and can leave comments. To date, the feedback has been very positive.
Tread Recycle welcomes individual sales through its website, but strongly focuses on group sales to companies, clubs, associations, and schools. Key chains can have custom branded labels and are ideal for fundraising events or promotional items. Also, there are affiliate opportunities for internet entrepreneurs. Their mission statement sums it all up well, "Cleaning up the Community While Supporting Local Causes". Their movement is undeniably unique. The next time you cruise down the highway, you will quickly discover in a world of "supply and demand", there is no shortage of supply.
For more information about this topic, or to schedule an interview with Jason Levy, please call (973) 874-9321 or send an email to jason(at)treadrecycle(dot)org. Additionally, please visit http://www.treadrecycle.org for further product information.
Contact:
Jason Levy, Development Director
jason(at)treadrecycle(dot)org
(973) 874-9321
###