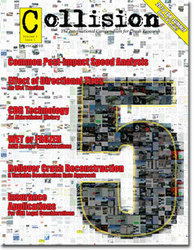 Effect of Directional Tires on Wet Traction
Houston, TX (Vocus) June 10, 2010
ATA Associates' paper "Effect of Directional Tires on Wet Traction" was recently published in the in the Spring 2010 issue of Collision, The International Compendium for Crash Research. Written by ATA's Bob Swint and Ed Fritsch, in partnership with Bobby Unser and Harold Herzlich, the paper describes tests looking for quantifiable differences in braking and handling performances related to the specific orientation of directional tires.
The study was litigation related and designed to test reversed rotation with regard to wet braking and wet lane change. At issue in Poole v. Pep Boys (No. 06-03657-E, District Court of Dallas County, Texas 101st Judicial District) was the claim that improper mounting of a directional tire was responsible for an unfortunate motor vehicle accident.
"ATA performed straight-line braking tests and lane change maneuvers with various brands of tires and plotted the trajectory of the vehicles. Testing at the site and two additional testing locations revealed no significant decrease in performance associated with directional tires and wet surface handling," according to Swint. The paper further addresses hydroplaning, tread depth and pattern, as well as the coefficient of friction of road surfaces.
"We are pleased to have our finding published in Collision. Collision leads the industry in crash data research," said Swint. "I highly recommend the magazine to attorneys, insurance personnel, and reconstructionists for keeping current on the latest technical data and analysis."
Over the course of the last 4 years, Collision has become the preeminent crash reconstruction print publication providing subscribers with access to timely, reliable and fresh research, thought provoking reconstruction related studies and meaningful crash test data from multiple sources.
For a copy of the paper please contact Lisa Blunt at bluntl(at)ataassociates(dot)com or 281-480-9847 or visit Collision publishing to subscribe.
About ATA Associates, Inc.
ATA Associates is a leading provider of accident reconstruction, product failure analysis and technical consulting services. ATA does it all with a level of expertise and integrity unparalleled in our field. In fact, ATA Associates has provided expert witness services to defense and plaintiff attorneys for over 30 years earning a level of credibility unsurpassed in the industry. For additional information visit ATA Associates.
###