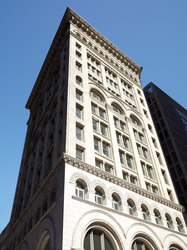 Teamwork and creative collaboration were the keys to completing this fast-paced project, in which we preserved the integrity of the building while creating gracious hospitality space.
Boston, Mass. (PRWEB) March 2, 2010
Tishman Construction Corporation of Massachusetts (TCC-MA) recently completed the renovation and restoration of the historic Ames Building, transforming it into the luxurious Ames, a 114-room boutique hotel incorporating high design and operated by Morgans Hotel Group. Ames is located at One Court Street, just off Washington Mall in the heart of downtown Boston's Financial District, near Faneuil Hall and Quincy Market.
Constructed in 1889, the 14-story Ames Building was Boston's first skyscraper. The masonry load-bearing building is the second-tallest masonry building in the country. It was designed by Shepley Rutan & Coolidge in the Richardsonian Romanesque style, so named for famed architect H.H. Richardson, who gave his buildings fanciful details and a distinctive roofline overhang. The building was added to the National Register of Historic Places in 1974.
After a succession of owners, the unique building was purchased by Normandy Real Estate Partners and Morgans Hotel Group, redesigned by the Rockwell Group in collaboration with Morgans' in-house design team, and thoroughly repaired, renovated and upgraded by construction manager, Tishman Construction.
Challenges and Solutions
To preserve this building and transform it into a premier, contemporary hotel, Tishman met a series of challenges in collaboration with the architects on the project. These challenges consisted of preserving and restoring historical aspects of the interiors, including ornate period details, façade restoration, structural and mechanical upgrades, and meeting the client's accelerated timetable.
"Teamwork and creative collaboration were the keys to completing this fast-paced project, in which we preserved the integrity of the building while creating gracious hospitality space," said Tom Erickson, Senior Vice President of TCC-MA. "We're very pleased with the result of the efforts of the entire team and are proud to have renovated and restored this important historic building."
Tishman Construction Corporation
In business for 112 years, Tishman Construction Corporation is a privately held firm headquartered in New York City and having operating units located across the United States and in the United Arab Emirates. Known for successfully managing the complexities of construction, innovative approaches to building, and sustainable-building leadership, Tishman is responsible for the construction of more than 450 million square feet of space, incorporating facilities of every size and type, including arts and culture, commercial, convention centers, education, gaming, government, healthcare, hospitality, residential, retail, sports and leisure, technology and transportation. TCC ranks # 2 in the nation on Building Design & Construction's Top Construction Managers list and ranks highest in the nation for green construction, since approximately 70% of its projects are sustainable.
TCC-MA clients include: New England Conservatory; Winn Development Corp.; Boston Garden Development Corp.; Massachusetts Convention Center Authority (MCCA); State Street Corp.; U.S. General Services Administration (GSA); LNR Property Corp.; Carpenter and Company; The City of Worcester (City Square); The YMCA of Greater Boston, Inc.; Sentinel Data Centers; New Center for Arts and Culture; Boston Health Care for the Homeless; and the City of Quincy Schools. For more information, please visit tishman.com or call Scott Bates at (617) 723-2314 x 236.
Morgans Hotel Group
Morgans Hotel Group Co. (NASDAQ: MHGC) operates and owns, or has an ownership interest in, Morgans, Royalton and Hudson in New York, Delano and Shore Club in South Beach, Mondrian in Los Angeles, Scottsdale and South Beach, Clift in San Francisco, Ames in Boston, and Sanderson and St Martins Lane in London. Morgans Hotel Group and an equity partner also own the Hard Rock Hotel & Casino in Las Vegas and related assets. Morgans Hotel Group has other property transactions in various stages of completion, including projects in SoHo, New York, Palm Springs, California, Isla Verde, Puerto Rico, Playa del Carmen, Mexico and Dubai, UAE. For more information, please visit morganshotelgroup.com.
Contacts:
Scott Bates
Tishman Construction Corporation
(617) 723-2314 x 236
Barbara Wagner
Rubenstein Associates
(212) 843-8035
# # #