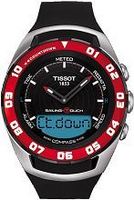 Tissot hits the mark again!
(PRWEB) June 18, 2010
Tissot have become the leaders in Swiss watch innovation over the past decade. Since the launch of the first T-Touch watch, the Tissot brand has become one of the most sought after wrist wear brands the world over.
The T-Touch range has grown in popularity since its launch more than five years ago. Titanium has been added to the watch designs in order to offer a lighter alternative to steel cases and bracelets. Extra functionality has also been added to the range. This is epitomised by the T-Touch Expert, a watch that now has ten functions. Extra water resistance now enhances the Sea Touch, to make the watches in this range the first fully functioning T-Touch watch compatible with diving.
This year Tissot have further complemented the T-Touch watch range with the launch of the all new Sailing Touch. As the name portrays, the Sailing Touch has been designed to appeal to people who love to sail and want a Tissot watch with functionality to compliment their hobby. The Sailing Touch is not like the T-Touch Pilot Expert - a watch that has minor changes to the case and then given a new name. The Sailing Touch has new functionality and a completely new case.
The Sailing Touch has been designed by Tissot Watches as a smoother, less cumbersome watch - gone are the hard edges of the T-Touch Expert, which have been replaced by sweeping curves. The Sailing Touch also bridges the gap between functionality and fashion, with fantastic use of colour throughout the Sailing Touch range. With beautiful design across six different watches within the range, it is easy to see why the Sailing Touch will be popular with the masses as well as with sailing enthusiasts.
Another additional feature worth mentioning is the Regatta function – this offers a ten minute countdown for those who want to use the watch for its true purpose. The Sailing Touch also offers new 100 meter water resistance, a real plus point if the watch is being worn during sailing.
All in all the new Sailing Touch is a step in a new direction for the T-Touch range, one that is sure to secure an even stronger position for the brand.
Tissot watches are only be purchased through http://www.HotWatches.co.uk which is one of a number of authorised UK distributors that offer a full manufacturer's warranty and full customer support.
###