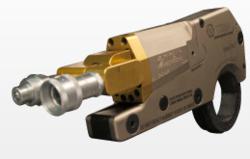 [Titan engineers] continue to develop solutions that revolutionize the bolting industry.
Houston, Texas (PRWEB) February 25, 2013
Titan Technologies International, a worldwide leading manufacturer of hydraulic torque wrenches, pneumatic and electric torque wrenches, hydraulic tensioning and other high-end bolting solutions, announced today that they will re-launch their ST-LP2 hydraulic torque wrench this fall after some improvements are made.
The ST-LP2 was recently taken off the market for a redesign to make significant improvements to the product's durability. Once reintroduced, the smaller tool will fit in tight spots that the LP4 can't and will be able to torque up to 2000 Ft-lbs. It will be the smallest of all Titan torque wrenches and the smallest torque wrench industry wide. It will also have a smaller concentric strap, designed for tighter applications.
"Our engineers are the best in the industry", said Ron Torretti, General Manager of Titan Technologies International. "They continue to develop solutions that revolutionize the bolting industry. The redesign of the ST-LP2 will reinforce this and our position in the marketplace."
Before being taken off the market, the ST-LP2 36mm was sold to the train railway division of a leading energy and transport company based in France. They purchased it because the torque needed was overtly small. They also had space restrictions, which was an important factor for them. The ST-LP2 being considerably smaller was able to accommodate these space restrictions.
Titan's LP Series Hydraulic Torque Wrench is made to fit in small spaces without sacrificing power. It is unique because of the "Wide Track" ratchet tooth design that distributes stress evenly, which provides a larger contact area that delivers the strength to get the job done right every time. Each hydraulic torque wrench has a calibration certificate with traceability to N.I.S.T. All testing equipment is calibrated by NVLAP Accredited Calibration Laboratory.
The features of the series include:

Made in the USA
Powerful 268 ft.lbs-38,000 ft. lbs (770Nm - 5137Nm)
Range of Hex Sizes A/F 2 3/16" - 3 1/8" (56mm - 79mm)
Accurate to +/-3%
Smallest ratchet width available on the market to fit the tightest spaces
SuperThin Link series use the interchangeable LP power head
Extremely versatile and light-weight
About Titan Technologies International
Headquartered in Houston, Texas, Titan Technologies International is privately held with offices worldwide and distribution in more than forty countries. Titan products are relied upon by a wide variety of industries, including oil and gas, mining and construction, power plants, shipyards, steel mills, locomotives, and off-road equipment and cranes. For more information, please visit http://www.titanti.com.