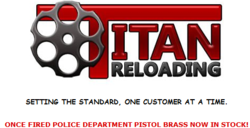 Your Silver Bullet in Lee Precision Reloading Supplies!
Hartford, WI (PRWEB) July 21, 2012
Once a bullet has been fired, many gun lovers want to use reloading supplies to reload their own ammo. With Titan Reloading, master distributor of Lee Precision equipment, gun owners can find the highest quality Lee Precision supplies at discount prices to make their hobby cheaper and more fulfilling. Assisting with promotions for the Titan Reloading website and eCommerce business is LAD Solutions, a highly respected Los Angeles based internet marketing company. Titan Reloading recently hired LAD to handle all of its online marketing in order to gain more market share across the globe. Now with a click of the mouse, people all over the world can have access to Lee Precision reloading supplies.
Titan Reloading has become a Lee provider to help deliver high quality materials at a fraction of the price to people who want to make their own ammo. Lee products were developed by Richard Lee in 1958 out of his basement. Since then, these reloading supplies have continued to grow in popularity. All Lee products are designed and made in the United States and are guaranteed to be high quality with a minimum guarantee of two years of use without wearing out or breaking. The Lee Precision reloading equipment sold by Titan Reloading comes brand new directly from the factory so customers always receive the highest quality of products in their order.
Reloading dies are made for both pistols and rifles. The dies designed by Lee Precision are some of the most replicated of the reloading supplies on the market. These dies remain industry leaders because of their groundbreaking technology with unbreakable decappers, floating bullet seater and heat treatments to maximize hardness and still create a smooth finish. Each order of reloading dies comes with powder through expanding die, free shell holder, load data and dipper and lock rings at no additional cost.
Titan Reloading is owned and operated by a married couple in the United States who combined have over 50 years of experience in business and reloading. With their offices close to the Lee factories, the Gorski family has earned honors for their high level of customer service and fast shipment rates. Dennis Gorski, the husband co-owner of Titan Reloading, has over 30 years of experience in the die cast molding industry which allows this team to provide a unique service and expert help to their customers. Their status as a master distributor gives them the ability to provide all Lee Precision products for a discount price.
With the help of Los Angeles internet marketing company LAD Solutions, Titan Reloading has built a presence and promoted their ecommerce business to help gun owners who want to reload their own ammo get the best products at the most affordable prices. The website is also filled with information and how-to demonstrations. With the help of LAD Solutions, Titan Reloading has improved general awareness of the reloading industry.
About Titan Reloading: Titan Reloading is owned by JSMDirect, LLC which has been owned and operated by the Gorski family since 2009. With the combined experience of Dennis Gorski with his 30 years in the die cast molding industry and Robin Gorski with her top level customer service, this company has grown their business online by becoming master distributors of Lee Precision products. Visit the Titan Reloading website to learn more.