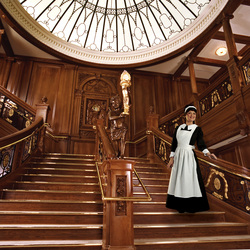 We pay respect to Titanic by telling the story of the ship and her passengers
Pigeon Forge, TN (Vocus) March 26, 2010
The new Titanic Museum Attraction in Pigeon Forge, Tenn. will open on Thursday, April 8, 2010 with a star-studded Grand Opening hosted by Regis Philbin. The event, which is open to the public, also will be attended by descendants and family members of those on board the Titanic and includes a christening of the ship.
The weekend-long Grand Opening Celebration at the new Titanic Museum Attraction includes the christening by Philbin, a free concert by country music legend Neal McCoy, a free concert by Beatles cover band Liverpool Legends (hand-picked and managed by George Harrison's sister), nightly fireworks displays and special events and performances through Sunday, April 11.
Philbin, best known for his television shows including Live With Regis & Kathie Lee and Who Wants to be A Millionaire, will serve as master of ceremonies during the Grand Opening. Philbin's television career started more than 50 years ago when he was a reporter in San Diego. Since that time, he has become a national fixture with a string of Emmy Award-winning shows. The christening and Grand Opening event, which take place outside of the Titanic Museum Attraction, are free and open to the public.
Titanic Museum Attraction is a half-scale, permanent, three-deck reproduction of the Titanic. The museum houses 20 galleries to display hundreds of authentic, priceless Titanic artifacts that were either carried from the ship and into lifeboats by passengers and crew, or were found afloat soon after the sinking and quickly salvaged by rescue boats.
Inside the Titanic Museum Attraction, visitors find full-size reproductions (built to actual Titanic blueprints) of Third-Class quarters, a First-Class suite, dining rooms and – the museum's centerpiece – a $1 million exact reproduction of the Titanic's Grand Staircase. The First-Class suite in the Titanic Museum Attraction, which was occupied by Isidor and Ida Straus who founded and owned Macy's Department Stores, was also the cabin used in James Cameron's blockbuster movie Titanic as Rose's suite.
"We pay respect to Titanic by telling the story of the ship and her passengers," said John Joslyn, owner of the new Titanic Museum Attraction. "Visitors learn the individual stories of those onboard the ship as they are learning about the ship itself. We have spent years researching these people and their stories are absolutely amazing.
"In addition to an unparalleled collection of artifacts, we have built Titanic Museum Attraction as a completely interactive attraction. You hear the wonderful stories as you're going through the museum, but you are also experiencing things the way they were in 1912 when Titanic sailed. It's one thing to hear about the men who shoveled coal into the boilers – but it comes to life for you when you pick up that shovel and feel what it means to shovel coal into a furnace."
In addition to being a world class museum in the truest sense of the word, Titanic Museum Attraction is also highly interactive and offers a hands-on experience for children, teenagers and adults. The ship is anchored in water to create the illusion of Titanic at sea, and a 90-minute self-guided tour gives guests the sensation of sailing on the original ship's 1912 maiden voyage. Upon entry, each guest receives a boarding pass bearing the name of an actual Titanic passenger or crew member whose fate is revealed on the Memorial Wall at tour end. Along the way, powerful emotions surface as guests:

Walk Titanic's Grand Staircase
Touch the frozen surface of an "iceberg"
Feel the chill of that fateful "Starry Night"
Study some of the largest, most detailed Titanic models ever built
Grip the ship's wheel and follow the Captain's commands
Tour world-class galleries and the rare historical artifacts they hold
Sit in a Titanic lifeboat and listen to actual survivors tell their stories
Send an SOS from the Marconi Wireless Room
Test their balance while standing on mini-decks built to show the ever-steeper slope of Titanic as she sank
Watch children eight years and younger explore the special interactive TOTanic Play-and-Learn Room
Dive to Titanic's wreck site via spectacular underwater camera footage
The Titanic Museum Attraction Grand Opening event begins on Thursday, April 8, 2010 at 10 a.m. and continues with special events and celebrity guest appearances throughout the weekend. Tickets to the new Titanic Museum Attraction, which will open April 8, are now available online at http://www.TitanicPigeonForge.com. (Note: The outdoor Grand Opening and christening are free and open to the public, but admission to the Titanic Museum Attraction requires a ticket.)
Cedar Bay Entertainment is a privately owned entertainment and development company headquartered in Branson, Missouri, the site of Cedar Bay's first Titanic Museum Attraction. Since its April 2006 grand opening, it has welcomed more than 2,000,000 guests.
Editors: For more information about the Titanic Museum Attraction Grand Opening or to arrange for a media visit, please contact Rick Laney at (865) 584-0550. High resolution photos of the new Titanic Museum are available upon request. A complete Regis Philbin bio is also available upon request.
Media Contact:
Rick Laney
(865) 584-0550
# # #