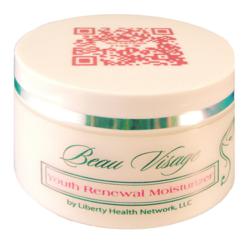 Each and every day, we see stories about chemicals that at one time were thought harmless and now are know to contribute to cancer. We know that when an educated consumer wants a product, they'll choose Mortechem Free.
Tampa Bay, FL (PRWEB) July 17, 2012
Products from Liberty Health Network, LLC (LHN) that guarantee to make users look years younger just got a boost to the product line. LHN announced today that the Beau Visage Youth Renewal Moisturizer is available for immediate purchase.
"We are excited to bring another Mortechem Free product to the marketplace." Said LHN Chief Operating Officer Russell Bly. "Our new moisturizer is loaded with enzymes and natural ingredients such as Aloe Barbadensis, Avocado Oil, Olive Oil, Grape Seed Oil, Grapefruit Peel Oil, Other Antioxidants including Ubiquinone CoEnzyme Q10. But most important, there is no Titanium Dioxide in this product." Bly said.
"Titanium dioxide has recently been classified by the International Agency for Research on Cancer (IARC) as an IARC Group 2B carcinogen ''possibly carcinogen to humans''. Titanium dioxide accounts for 70% of the total production volume of pigments worldwide. It is widely used to provide whiteness and opacity to products such as paints, plastics, papers, inks, foods, and toothpastes. It is also used in cosmetic and skin care products, and it is present in almost every sunblock, where it helps protect the skin from ultraviolet light." As reported on the Canadian Center for Occupational Health Web Site
While Canadian research appears centered on Titanium Dioxide particles over 100nm, research at UCLA's Jonsson Cancer Center calls into question the use of nano-particle Titanium Dioxide. "Titanium dioxide (TiO2) nanoparticles, found in everything from cosmetics to sunscreen to paint to vitamins, caused systemic genetic damage in mice, according to a comprehensive study conducted by researchers at UCLA's Jonsson Comprehensive Cancer Center. " The report goes on to say "The manufacture of TiO2 nanoparticles is a huge industry... with production at about two million tons per year. In addition to paint, cosmetics, sunscreen and vitamins, the nanoparticles can be found in toothpaste, food colorants, nutritional supplements and hundreds of other personal care products. " The full report is available online.
While LHN has been leading the pack by pointing out the dangers of Mortechems in products, others are taking notice as well. NaturalNews.Com reports that "Titanium dioxide is considered extremely unsafe by Vitacost, which banned the ingredient from its in-house supplements label (NSI). Soon, products from Vitacost (http://www.Vitacost.com) may even be labeled with a "titanium dioxide free" claim to better educate consumers."
LHN expects more companies to follow their lead and jump on the Mortechem Free bandwagon as new products are released. "Each and every day, we see stories about chemicals that at one time were thought harmless and now are know to contribute to cancer. We know that when an educated consumer wants a product, they'll choose Mortechem Free." Said Bly.
LHN is a US business with distribution facilities in the Tampa bay area. The company's business model utilizes Independent Marketing Associates to distribute the following Skin Care Facial Treatment Products: Beau Visage Non Surgical Facelift Mask ; Beau Visage Facial Herbal Toner with Hyaluronic Acid and Witch Hazel (2 Ingredients recommended by TV's Dr. Oz); Beau Visage Facial Cleanser;The New Beau Visage Youth Restoring Moisturizer. All four of the above products may be purchased individually, or in a complete set on Amazon.Com
In addition, LHN offers several of the company's best-selling Mortechem-Free Nutritional Supplements such as AlliSTAR Premium Garlic Supplement; ProZymaCleanse Daily Probiotic, Digestive Enzyme, and Fiber Supplement; O2 Plus Saturated Oxygen Drops; SlimEZ Weight Loss Supplement Capsules; MGA Plus Mangosteen, GoJi, Acai, and Pomegranate Capsules which play an important role in turning back the hands of time.
Additional products are also offered exclusively on the company's website for Network Marketing distributor sales.
About Liberty Health Network, LLC
Liberty Health Network is one of the nation's leading Direct and Internet Marketing companies with a state-of-the-art Global Distribution facility in Tampa Bay, Fl. For 12 Years, the Liberty Health Network name has been synonymous with high quality Mortechem-Free Nutritional Supplements, Anti Aging Skin Care, and Internet Web Applications. The statements made on this website have not been evaluated by the Food & Drug Administration. These products are not intended to diagnose, prevent, treat, or cure any disease.
Individuals interested in affiliate Marketing are encouraged to visit the new Affiliate Marketing Online Store at http://www.FaceLiftMasks.Com
Businesses or Individuals interested in distributing Liberty Products or requiring more information on this topic should contact Chief Operating Officer Russell Bly at (813) 774-8191 or e-mail at office(at)libertyhealthbiz(dot)com.