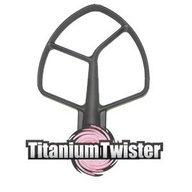 The positive feedback provided from the culinary institutions proves that Titanium Twister is truly The Better Replacement Beater
Lima, OH (PRWEB) January 14, 2013
The Titanium Twister is a flat paddle beater that will fit the five quart lift bowl stand mixers. Titanium Twister's innovative coating, Alodine EC², forms to the flat beater creating a smooth protective surface. Therefore it will not chip, blister, or tarnish like other attachments.
With this in mind, Titanium Twister donated their product in exchange for a product review from culinary institutions to gain their expert opinions. The institutions that participated would prefer to remain anonymous. The selected institutions used the Titanium Twister for 8 weeks before providing feedback of the review. A total of 12 professional Chefs utilized the product and gave their expert opinions in regards to the overall performance.
The results provided by the culinary institutions were more than acceptable. The chefs raved about the Titanium Twister's performance and the ability to clean easily. All 12 Chefs stated they would recommend Titanium Twister to other stand mixer owners.
"The positive feedback provided from the culinary institutions proves that The Titanium Twister is truly The Better Replacement Beater" stated Nicole Scott, Social Media/CSR for Titanium Twister.
About Titanium Twister
Our parent company has been involved in developing new coating technologies for well over 30 years. The Titanium Twister product was developed out of the need for a better coating on the mixer attachments included with KitchenAid Stand Mixers. What makes this attachment so special? It doesn't chip or tarnish and it can be washed in the dishwasher. Our mission is to sell one flat mixer attachment, that never needs replaced – Titanium Twister.
Visit us at http://www.thetitaniumtwister.com