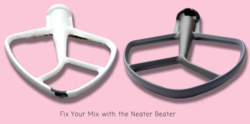 I am always excited to come into a community and share my love of cooking with new people," exclaims Cheryl, guest Chef from Taste of Home. "I always have a great time at shows because the audience makes it fun!"
Lima, OH (PRWEB) September 25, 2012
The Taste of Home (TOH) Cooking School features a cooking school with visiting Chef Cheryl Cohen making a variety of recipes and sharing ideas. Taste of Home is a fun learning experience for amateur cooking enthusiast. Cohen will present a two hour cooking school on stage where she introduces a variety of recipes with tips and tricks. This cooking school is also a chance to meet-up with fellow, local cooking enthusiast. Taste of Home visits 140 cities from September to December sharing cooking tips with the communities. Lima, Ohio is lucky enough to be included on the TOH list.
Titanium Twister is excited to share its new replacement beater and recipes with the Lima community. Titanium Twister's replacement beater improves upon what is currently available by using an innovative and durable coating called Alodine EC². This coating allows the Titanium Twister beater to be dishwasher safe with no chipping or tarnishing. Titanium Twister will be including in the TOH gift bag a special discount coupon so you can get the better replacement beater for 20% off regular price. There will also be chances to win prizes and get some S'More cookies at the Expo booth. Titanium Twister extends their commitment to improving the mixer stand experience through their Blending Blog that features great ideas and recipes.
The Taste of Home Expo from 3-7 pm is free and open to the public. Tickets for the TOH Cooking School can be purchased at varying rate levels: $25 tickets are VIP reserved seats with TOH Cooking School Cookbook, meet and greet with culinary specialist Cheryl Cohen, and gift bag ; $15 tickets are reserved seats with gift bag; $10 ticket for general admission with gift bag. Also included are a variety of door prizes.
Join the Allen County Community and Titanium Twister for the great fun of Taste of Home.
"I am always excited to come into a community and share my love of cooking with new people," exclaims Cheryl, guest Chef from Taste of Home. "I always have a great time at shows because the audience makes it fun!"
About Titanium Twister
Our parent company has been involved in exploring new coating technologies for well over 30 years. The Titanium Twister product was developed out of the need for a better coating on the mixer attachments included with KitchenAid Stand Mixers. What makes the Titanium Twister attachment so special? It doesn't chip or tarnish, and it can be washed in the dishwasher. Our mission is to sell one flat mixer attachment, that never needs replaced – The Titanium Twister.
Visit us at http://www.thetitaniumtwister.com