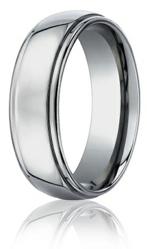 Best known for their incredible selection of affordably priced men's rings, JMR is ushering in the fall season with Benchmark titanium, which is one of the alternative metals in their Forge collection
Jensen Beach, Fl (PRWEB) October 11, 2011
As one of the leading online retailers specializing in designer rings, fashion rings, men's wedding bands and men's jewelry, JustMensRings.com is pleased to introduce this new collection of designer titanium rings and wedding bands. With a growing customer base in the U.S. and around the world, JustMensRings.com has become an important online destination for men's jewelry. This success can be attributed to their continuously updated collections and everyday low prices.
After being among the first retailers to expand its collection of alternative and industrial metals, JMR is always looking for the hottest new rings from the top designers. Benchmark is known for its extraordinary collection of designer titanium rings for men, all of which are made from the highest grades of pure titanium along with hypoallergenic alloy metals.
As Benchmark fans know, this designer never does anything halfway. While there are plenty of other men's titanium wedding bands available, few are as attractive and as well-made as Benchmark titanium rings. For JMR owners Roy and Judy Devine, the addition of Benchmark titanium is very exciting news. "We hear from customers all the time about their favorite rings and designers, and we know that the Benchmark line of men's titanium wedding bands is second to none," says Mr. Devine.
After just five years in business, JustMensRings.com has established itself as a reputable and reliable resource for men's rings in every style, metal and price range. With the addition of Benchmark titanium rings, their collection of titanium rings and titanium wedding bands is complete. Titanium has become extremely popular because of its natural strength and scratch resistance. It draws its name from the immortal elder gods of Greek mythology, the Titans; and these rings certainly live up to their name.
Like many other industrial metals being used to make men's jewelry, titanium is considered an "alternative" to more expensive precious metals, and JMR makes it even more affordable with their everyday low prices. Benchmark's titanium rings take full advantage of the special properties of titanium by incorporating unusual shapes and concepts into their original designs. JMR is pleased to introduce this new collection of Benchmark titanium rings to their expansive inventory.
About JustMensRings:
As an Internet-only retailer, JustMensRings.com is dedicated to providing a simple and secure online shopping experience. This is one site where customers know they are getting the best possible prices on an extraordinary selection of men's rings. JMR's customers have come to expect high standards of service, selection and quality when they shop at JustMensRings.com. In fact, Just Men's Rings (http://www.JustMensRings.com) now offers the largest selection of men's fashion rings on the Internet, and they are the only store in the U.S. that offers men's large size rings through size 20. They also lead their competitors with an unparalleled assortment of unique and alternative men's wedding rings, and JMR is known for their very low prices on men's gold rings. Despite the recent rise in gold prices, JMR keeps their prices low and affordable, and shoppers won't find better prices on gold, silver, tungsten, titanium and other popular metals.
###