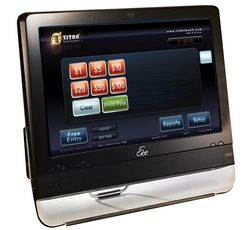 Norcross, GA (PRWEB) March 1, 2011
Georgia based TITAN TOUCH SYSTEMS, INC. announced today the release of their all‐in‐one enhanced version of the Titan Touch Plus Point‐Of‐Sale phone‐card sweepstakes accounting management system which sells personal prepaid phone time by printing Titan Time PIN's in any monetary value while supporting player sweepstakes entries.
"The new and improved features offer Operators of Internet Sweepstakes Games and Internet Café's an efficient way to track their earnings", claims George Schmidt, Director of Sales. George continues to state, "…these new improvements have been tested on hundreds of routes and operators have seen exceptional results in tracking revenues while making it easier for players to purchase prepaid phone card Pin's directly from the terminal…"
According to Project Manager Carl Dasenbrock, "…some of the new features include the ability to connect over 100 sweepstake terminals to one Titan Touch Plus POS System, has remote access from a laptop, desktop and even an iPhone from home or when an operator is on the road. In addition, Operators can generate a daily activity report set for a specific time of day to review all earnings. Furthermore, Carl continues to elaborate,
"…enhanced password protection has been designed to allow for minimum statistical data to be reviewed by each shift manager or counter clerk configured solely for their individual need basis…". According to Carl, Operator feedback claims "…operational improvement on not relaying on a bill validator since Titan Touch Plus POS replaces their need, has dramatically reduced the number of service calls in several locations…"
Other new features include:

Most manufacturer sweepstakes terminals can connect to the Titan Touch Plus POS System.
Low PIN warning alert communicates to Operator to purchase and activate additional PIN's, done right from the Titan Touch Plus POS System. No new circuit board or memory chip required to reload PIN's.
A full one‐year warranty is offered with each Titan Touch Plus POS purchase.
All Player PIN's are good for one‐year upon activation at consumer purchase date.
Overall, the Titan Touch Plus POS Systems offers a seamless back‐office solution, which provides the tools necessary to make intelligent business decisions. It's easily navigated and accessible via the internet. Titan Touch Systems, Inc. will host your data, for a small fee, or you can have it hosted at a site of your choosing.
The standard features are still built within the system such as: Points, accumulated on one terminal, can now be transferred to another without the need for printing additional PINs. Thereby, negating the need for repetitive ticket redemption at the counter each time a customer wishes to move from one terminal to the next.
For a limited time only, through 3/31/11 an introductory promotional offer will be extended to qualified Sweepstakes Operators. For $1,995 for one Titan Touch Plus POS System unit including Titan Manager software (a $895 value) and 25,000 active PIN (a $500 value) rather than the standard 10,000 PIN offer. Multiple pricing discounts are available.
To place your order or learn more about the all the features of Titan Touch Plus System, visit http://www.TitanTouch.com or call 1‐888‐789‐TITAN (8482) for details. Our Customer Service staff will be happy to answer any questions or ship out a preprogrammed unit so Operators will simply Plug N' Play at their location. For additional information contact: John Sasso, Director of Marketing, 770.298.5593
# # #