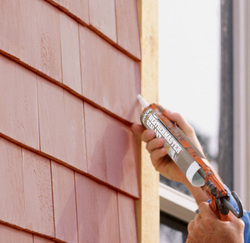 Columbus, OH (PRWEB) March 4, 2008
Franklin International has announced the addition of 50 stocking colors to its new Titebond WeatherMaster sealant line, ensuring that contractors can match this revolutionary sealant to virtually any color of exterior siding produced by major siding manufacturers.
The additional colors bring to 175 the palette of WeatherMaster stocking colors now available.
With the additional colors, WeatherMaster can match about any exterior siding on the market. Yet, no other sealant can match WeatherMaster itself for performance and ease of use. This unique advanced polymer formula offers a first-of-its-kind combination of features well beyond the capabilities of any existing silicone-, solvent-, latex- or urethane-based sealant.
Especially notable WeatherMaster features include cold-weather extrusion capability, near-immediate paintability, ability to fill big gaps and low VOC content.
First, WeatherMaster handles tough outdoor conditions better than other sealant can. Only WeatherMaster can be extruded in temperatures as low as 0 degrees Fahrenheit, enabling crews to apply sealant in the depth of winter, even in the coldest climates. WeatherMaster also can be applied during the spring thaw; unlike other sealant formulas, it adheres even to damp surfaces.
Crews don't have to wait on ideal application temperature -- or for the sealant to dry -- before painting. WeatherMaster is the only sealant available in the full array of colors that can be painted with latex paint in one hour after application.
Further, WeatherMaster easily fills gaps up to a full inch wide - twice the width most sealants can plug. The contractor can count on it to keep that gap filled over the decades, too: WeatherMaster contains 99 percent solids, providing record-low shrinkage and higher protection over the long-haul.
Additionally, WeatherMaster is completely safe for the environment and the crews who are applying it. At 9 grams per liter, WeatherMaster complies with the strictest state and regional limitations on VOCs. Low-VOC content also renders WeatherMaster odor-free, making it ideal for interior applications as well as exterior.
In fact, WeatherMaster is versatile enough to handle almost any interior or exterior application on the job site. It offers unbeatable waterproof adhesion to wood, masonry, PVC, fiber-cement, vinyl and aluminum siding as well as most other building materials. It also meets specifications for ASTM C920 Grade NS. Class 50 and TT-S-00230-C, Class A.
Titebond WeatherMaster Sealant is available in professional sized, durable plastic 10.3 ounce cartridges through Franklin's national network of distributors. For more information on this product, including a full list of colors and the manufacturers whose siding they match, visit titebond; or contact Franklin Customer Service at (800)669-4583.
###