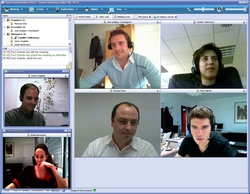 The German market is a key to Tixeo's growth. This brand new version and the German office will help us increasing our presence and answering our customers' needs
Montpellier/France, Munich /Germany (PRWEB) July 30, 2010
Tixeo, a web and video conferencing software company, today announces the opening of its German sales office in Munich. This expansion is a part of Tixeo's growth strategy and is a key to penetrate this market. The office will be headed by Werner L. KUHNERT, Sales Manager D.A.CH, who will be assisted by Hans BAUER, Sales Support Manager.
At the same time, Tixeo releases the 3.4 version of WorkSpace3D, including a full German localization, to come up to the German market expectations. "The growing demand of a German version of WorkSpace3D gave us no respite, and lead us to work fast on the localization. We are proud to have met our customers' expectations in such a short time." says Werner L. KUHNERT. Renaud GHIA, CEO of Tixeo, adds "The German market is a key to Tixeo's growth. This brand new version and the German office will help us increasing our presence and answering our customers' needs."
WorkSpace3D is now available in 6 languages: English, French, German, Greek, Arabic and Chinese. A free 15-days trial can be granted on http://www.tixeo.com .
About Tixeo
Tixeo is an innovative 3D video and web conferencing software company since 2003. Its solutions allow anyone to set up meetings with up to 50 participants, using both voice and video over IP.
Tixeo's software is enriched with easy-to-use collaborative features and offers a unique experience: hosting traditional meetings in 2D or enjoying 3D virtual spaces with a greater speech-gesture-sketch communication.
Not only Tixeo's solutions are available as Software as a Service (SaaS), on both monthly and yearly plans, but also as on-premise licenses and appliances.
Thousands of users worldwide work every day with WorkSpace3D, from SME to large corporations, such as: BNP Paribas, Raytheon, DGAC, Sogeti, CNRS, Flagstar Bank, Conforama...
For further information, please contact:
http://www.tixeo.com
TIXEO Headquarters (Montpellier, FRANCE)
Renaud GHIA, CEO
Tel: +33 467 750 431
Fax: +33 467 130 010
E-mail: rghia(at)tixeo(dot)com
TIXEO Deutschland (Munich, GERMANY) Werner L. Kuhnert, Sales Manager D.A.CH
Tel: +49 (0) 8806 9571 00
Fax: +49 (0) 8806 9571 01
E-mail: wkuhnert(at)tixeo(dot)com
###