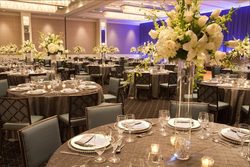 "This event definitely brought us closer together and strengthened our love. What a meaningful way to break away from distractions and spend quality time together!"
Naperville, IL (PRWEB) February 4, 2010
The concept of The Love Convention is and always will remain the same - an opportunity for couples to spend wonderful time away from distractions while enjoying fellowship with other couples and quality entertainment. Although the concept remains the same, Excite Marketing and Event Planning Co. (EMEPCO) promises to produce this Valentine's event in the Chicago area to be "something new."
For the 2nd Annual Love Convention, held at Hotel Arista on February 12th-14th, guests will experience another level of talented entertainment and the luxury of one of the Chicagolands' most exciting new hotels, sure to reignite the love connection with that special someone.
R&B recording artist Kevon Edmonds (formerly of After 7, Milestone) will be performing passion filled new songs, as well as familiar songs from the 90's at the main event on the evening of February 13th. Regarded as the carrier of the R&B Torch, Edmonds has proven to be uncompromising in his commitment to producing inspiring love songs. His sound will be widely recognizable from songs such as "24/7", "Ready or Not", as well as his new hit single "Oh". After spending years as a part of the groups After 7 and Milestone produced by his brother Babyface, he has spent the last decade focusing on a solo career of quality music. See more on Kevon Edmonds at http://www.kevonmusic.com.
The stunning Hotel Arista is sure to provide a unique and luxurious experience. New to Naperville (only located in New York, Paris, Naperville), Hotel Arista is making its presence known in the Midwest with romantic rooms, great food, and a state of the art eco-friendly environment. The accommodations feature guest rooms that are mesmerizing. From the unbelievable comfort of the plush bed to the unexpected glow of a TV in the bathroom mirror, there is plenty that will make this a first choice hotel. Learn more about Hotel Arista at http://www.hotelarista.com.
Event producer and owner of EMEPCO Tanesha Balderos-Lambert exceeded expectations at the 2009 event, and seeks to raise the bar again in 2010. "We sought to bring entertainment that would resonate the special feelings from last year, and take this years' event to another level." Balderos-Lambert has marked Valentines weekend with the signature event and a following of couples who have inked this event in to their Valentines plans. Balderos-Lambert is inspired to continue creating the Love Convention experience by a faithful commitment to connect quality people to quality events, with an emphasis on creating opportunities to strengthen relationships.
The Love Convention is a 3 day / 2 Night get-away for couples to enjoy quality entertainment, food, activities, and fellowship. Options include the Rendezvous Package which is the main event only; with live entertainment featuring Kevon Edmonds and live jazz saxophonist Ray Silkman, food, drinks, a live DJ, and hours of fun and dancing. The Romance Package includes the main event along with an overnight stay at Hotel Arista with Sunday morning breakfast. Lastly, the entire 3 day / 2 night Rekindle Package allows all inclusive food from Friday evening to Sunday morning, group activities and the main event. Group activities for the Rekindle Package involve a Fashion Show, a couples workshop, dance lessons, an optional couples massage, and more. The Love Convention is unlike any other Valentines event in the Chicago area and makes a perfect one of a kind Valentines gift.
EMEPCO is a marketing and event planning company who conceptualizes and produces independent events, and markets and promotes them to the general public. EMEPCO seeks sponsors to support community events either financially or in kind trade. For more information about EMEPCO visit http://www.emepcoinc.com
###