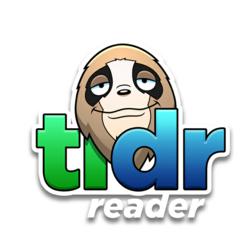 Text on mobile needs to fit in the palm of your hand
Scottsdale, AZ (PRWEB) January 15, 2013
At this year's ShowStoppers CES event, Stremor Corp announced its TLDR Reader for mobile. Following on the success of Stremor's TLDR Plugin, which is the world's most installed automated summarization tool, TLDR Reader combines a powerful summarization tool, a news reader, search, and a browser into a single app. Utilizing Stremor's language heuristics engine, Liquid Helium, it delivers real-time summarization of news articles, blog posts, and online journals to smartphone users. Not a walled-garden of limited news offerings, TLDR Reader users have freedom to access and condense any content on the web via the browser. Through a seamless "find more like this" feature, users can explore related content on the same subject.
"Other mobile readers prevent websites from monetizing their content by wrapping the source article in a custom interface that strip ads and masks branding," says Stremor's CEO, Bill Irvine. Because the TLDR Reader app has an integrated browser, site owners gain traffic without sacrificing revenue or brand awareness. Users benefit from better summarized "teasers" than what would be provided from the first few lines of a story or search result. This increases the likelihood readers will visit the site. "We believe this is the best experience for both publishers and readers," continued Irvine, "Readers discover more content, while publishers maintain the ability to own the user experience."
"Text on mobile needs to fit in the palm of your hand," says Stremor's VP of User Experience, Greg Rewis. "Full length content is too long for the form factor and usage patterns of mobile users. Often it's too time consuming to browse through several pages of text to determine what is worth reading." TLDR Reader addresses this issue by providing unbiased computer generated summaries of content from top sites around the web. Using Stremor's Liquid Helium to condense content to about 350 characters, TLDR Reader presents the summary of content, and if a reader wants to view the full article, the integrated browser opens to the site and page on which the story appears.
Primarily for English, the app allows summarization of any page on the web in supported languages which currently includes all Germanic and Romance languages. The app leverages the power of Liquid Helium, the company's proprietary language heuristics engine, the foundation of all Stremor's products and services. Liquid Helium has the ability to judge the importance of content sentence by sentence and determine what parts of content are most important. It works to maintain the intent of the author and makes certain that if information from the preceding sentence is required, that sentence is also included. As a result, summaries read very naturally and give a good representation of the full content.
The TLDR Reader App is now available for Android in the Google Play store. Visit TLDRstuff.com for the link and updates on iOS availability coming soon.
Stremor Corp is an Internet technology startup, focused on building solutions that enable content platforms to effectively support the evolution of online media towards an array of connected devices and systems. Stremor utilizes their powerful language heuristics engine, Liquid Helium, to build innovative consumer applications that showcase their core technology's ability to comprehend language.