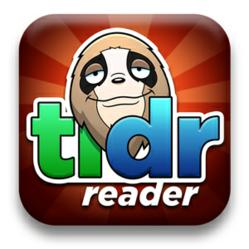 We're optimizing the content, in real time, for mobile users with TLDR Reader.
Scottsdale, AZ (PRWEB) January 29, 2013
The TLDR Reader combines a powerful content summarization tool, news reader, search, and web browser into a single app for iPhone and Android devices. The app utilizes the content reduction capabilities of Stremor's Liquid Helium, a language heuristics engine that comprehends written material for real-time summaries. Not a walled-garden of limited or curated news offerings, TLDR Reader delivers real-time summarization of news as it happens from over a hundred sources in 14 news categories. The "Find More Like" feature searches news sources across the web for related topics, and summarizes those as well. The built in mobile browser can instantly summarize any web content.
"We love storytellers and their content. And we love news," says Stremor's CEO, Bill Irvine. "But on an iPhone I want to quickly find the information I need, then open the full article. Summaries of stories are the perfect solution." According to Irvine, creating a language-aware technology for mobile was the inspiration for starting the company. "A lot of mobile news apps and responsive web sites are just small screen wrappers over content intended for desktop users. We're optimizing the content, in real time, for mobile users with TLDR Reader."
Brandon Wirtz, Stremor's CTO and architect of Liquid Helium explains, "Crowdsourced solutions, and readers that bullet point articles have severe limitations. The web moves too fast to have people shorten content." Stremor's Liquid Helium provides better summarized "teasers" than what would be provided from the first few lines of a story or search result. This increases the likelihood readers will visit the site. "We want readers to go to the full story," Wirtz continues, "a good summary piques the reader's interest, but also lets them know if the story is relevant to them. The computer can do what a human can't. Keep the authors intent without adding bias."
Primarily for English, the app allows summarization of any page on the web in supported languages. Currently all Germanic and Romance languages are supported, but the TLDR Reader has limited capabilities for most western language. The app leverages the power of Liquid Helium, the company's proprietary language heuristics engine, the foundation of all Stremor's products and services. Liquid Helium has the ability to determine the importance of content sentence by sentence and choose the sections which are most important. It works to maintain the intent of the author and makes certain that if information from the preceding sentence is required, that sentence is also included. Understanding of language allows the software to create summaries which read naturally and represent the full content.
TLDR Reader is now available for iPhones in the iTunes App Store, and Android phones in the Google Play store. Visit http://tldrstuff.com for the link and updates on Windows Phone availability coming soon.
Stremor Corp is an Internet technology startup, focused on building solutions that enable content platforms to effectively support the evolution of online media towards an array of connected devices and systems. Stremor utilizes a powerful language heuristics engine, Liquid Helium, to build innovative consumer applications that showcase their core technology's ability to comprehend language.