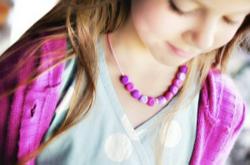 Had he been wearing one of the bracelets, he would have been able to find me in a matter of minutes
(PRWEB) May 11, 2011
"Have you ever been at theme park and heard an announcement about a lost child and been so relieved that it wasn't your child? But what if it was?" This was the opening question from jewellery designer Tanya Krackowizer as she discussed the inspiration behind her recently launched range of safety jewellery.
The concept is that the bracelet or necklace incorporates the parent's cell number so in the event that the child is lost, he/she goes to the nearest responsible adult and shows them the bracelet. That person calls the cell number and the child is found. The idea is a very simple one, but extremely effective.
Tanya is the mom of a seven-year-old boy, and the revelation came to her as they lost sight of each other one day in a very crowded park. "Had he been wearing one of the bracelets, he would have been able to find me in a matter of minutes." said Tanya. She feels it would have avoided that frantic 10-minute search, which ended when she found him crying on the other side of the play area being comforted by another mom. Tanya now puts a bracelet on her son every time they go out and he loves it because it is fashionable and colourful. "He wears it with such pride." She has instilled a variety of safety precautions for her son to adhere to should he lose her again. She has taught him that he must go into a shop and show the sales staff the bracelet. If there are no shops, then he is to approach a responsible adult, preferably a woman who has children with her or a police officer.
Tanya, who trades under the name TLK JEWELLER, has called the range TLK CHERUBS™. This signifies the idea that your children are being protected and guarded. Of course, your Cherubs are both boys and girls, so there are two ranges:
The boys can chose between Black, Indian Red, Tangerine, Pacific Blue and Tropical Green. For the girls there are beads in Raspberry, Violet, Lemon, Sparkly Deep Blue and Glittery Red. With a choice of dangly stars, hearts and flowers, it is easy to customise each piece.
Each bead is handmade from Fimo® Polymer Clay, stamped with a number and threaded onto a colourful leather cord with a sterling silver 'tlk cherubs' branded spacer. The piece is then finished with sterling silver ends and a bolt ring catch.
They are perfect for the beach, the park, the mall, at theme parks, camping, festivals and holidays.
The bracelets retail at $38.00 (£23.00) and the necklaces retail at $44.00 (£26.00). The range is available online at http://www.tlk-jeweller.com. To take advantage of an introductory special offer, please enter the following code CHERUBINT100 at the checkout to receive free international delivery in May and June.
"Keep your cherub stylish and safe this summer and all year round."
Tanya informed us to remind parents this is not a toy and not suitable for children under 36 months.
SEO Support by MK Web Services
###