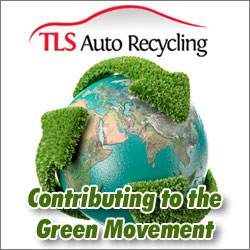 Sacramento, CA (PRWEB) May 28, 2012
The Better Business Bureau's stated vision is to create "an ethical marketplace where buyers and sellers can trust each other." To that end, the Better Business Bureau assesses local and national business based on a high standard of evaluative criteria. "BBB Accreditation is an honor," says the Better Business Bureau's website, "and not every company is eligible." Those select few who are invited are the crème de la crème, the industry leaders, the best of the best.
TLS Auto Recycling is not only accredited by the Better Business Bureau, but recently received a coveted "A" ranking. "A" rankings are only bestowed upon those businesses that have the highest rankings, standards, and reviews when it comes to the business's complaint history with the BBB, the type of business, the time in business, the background information on business in BBB files, the failure (or lack thereof) to honor commitments to the BBB, licensing and government actions known to the BBB, and advertising issues known to the BBB. TLS Auto Recycling was helped in its mission for the "A" ranking by the fact that, for over a year, TLS has not received a single complaint from any of its customers.
Keeping customers satisfied has long been the #1 priority of TLS Auto Recycling, and this recent ranking confirms TLS's high level of commitment to its customers. For any and all recycled auto part needs, look no further than the auto recycling and dismantling company with the "A" ranking from the Better Business Bureau – TLS Auto Recycling.
About TLS Auto Recycling:
TLS Auto Recycling is at the forefront of the northern California auto recycling business. Specializing in auto parts for the Toyota, Lexus, or Scion driver, TLS Auto Recycling is renowned for its high rate of client satisfaction and customer-oriented business philosophy. A leader in the green industry and in environmentally friendly business practices, TLS uses only clean and undamaged parts that undergo rigorous in-house testing.