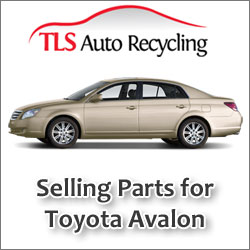 No longer just for Gramps
Chicago,IL (PRWEB) May 13, 2012
Toyota has long had the reputation of stability and reliability, and with even a cursory review of individual makes and models, it's not hard to see why. The Toyota Avalon, the flagship sedan of Toyota in the United States, prides itself on being known for dependability, comfort, and extra rear leg room. Ranked #2 in U.S. News and World Report's "Affordable Large Cars" category, the Toyota Avalon is a safe, consistent, and steadfast bet.
TLS Auto Recycling works to keep its customers satisfied with their Avalons by offering parts from models reaching back to the mid-1990s. A specialist in auto dismantling and recycling, TLS Auto Recycling boasts an impressive array of automobile parts for the Toyota Avalon. TLS is here to ensure that each and every Avalon keeps running smoothly for years to come.
About TLS Auto Recycling:
With a staff boasting a combined experience of over 70 years in the dismantling and recycling industry, TLS Auto Recycling is at the forefront of the northern California auto recycling business. Specializing in auto parts for the Toyota, Lexus, or Scion driver, TLS Auto Recycling is renowned for its high rate of client satisfaction and customer-oriented business philosophy. A leader in the green industry and in environmentally friendly business practices, TLS uses only clean and undamaged parts that undergo rigorous in-house testing.