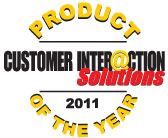 LogMyCalls has earned its place.
St. George, UT (PRWEB) February 24, 2012
ContactPoint announced today that TMCnet named LogMyCalls a winner of the Customer Interaction Solutions Product of the Year Award. Customer Interaction Solutions magazine has been the leading publication covering CRM, call centers and teleservices since 1982.
With market-leading features including call analytics, call recording, call searching, tagging, commenting, scoring and goal-setting, LogMyCalls provides contact centers and other enterprises the opportunity, for a very low price, to optimize their customer interactions in measurable ways. LogMyCalls allows users to actually score calls on specific, customizable criteria and to produce actual call analytics.
"We are very, very excited about this award!" ContactPoint CEO Jason Wells said. "LogMyCalls is an inexpensive call recording and quality management tool that small and medium-sized call centers can use to fundamentally change performance. Anyone who cares about the phone should be using this."
"LogMyCalls was selected to receive this award for its achievement in advancing CRM, contact center and call center technologies. LogMyCalls has demonstrated excellence as well as provided ROI for the companies that use it," said Rich Tehrani, CEO, TMC. "Customer Interaction Solutions magazine has been recognizing innovative product for 14 and LogMyCalls has earned its place."
About ContactPoint
ContactPoint is the world leader in marketing and sales optimitics. Their new product, LogMyCalls, provides inexpensive tools for enterprises seeking to optimize marketing and sales performance. These tools—phone call tracking, call recording and call performance scoring—allow businesses to determine which advertising methods are effective and transform their ability to secure business over the phone. For more information, visit LogMyCalls.com or call 866-811-8880.
About Customer Interaction Solutions
Since 1982, Customer Interaction Solutions (CIS) magazine has been the voice of the call/contact center, CRM and teleservices industries. CIS magazine has helped the industry germinate, grow, mature and prosper, and has served as the leading publication in helping these industries that have had such a positive impact on the world economy to continue to thrive. Through a combination of outstanding and cutting-edge original editorial, industry voices, in-depth lab reviews and the recognition of the innovative leaders in management and technology through our highly valued awards, Customer Interaction Solutions strives to continue to be the publication that holds the quality bar high for the industry. Please visit http://www.cismag.com for more information.
###