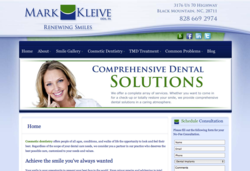 When patients finally experience relief from their symptoms, they couldn't imagine living life any other way.
Asheville, NC (PRWEB) February 01, 2012
A recent report from the National Institute of Dental and Craniofacial Research (NIDCR) states temporomandibular joint and muscle disorder, or TMD, has been shown to affect up to 12% of the American population. This makes TMD the second most frequently occurring musculoskeletal condition resulting in pain and disability next to chronic lower back pain. At his Asheville cosmetic dentistry practice, Dr. Mark Kleive says the effects of TMJ are often serious; however, there are reliable treatment options in modern dental care for correcting the cause of the symptoms. According to the NIDCR study, only half to two-thirds of those who suffer from the condition actually seek TMJ treatment., Dr. Kleive says early diagnosis and dental therapy can help ease and eliminate the muscle pain, headaches and tension associated with the disorder and restore healthy, pain-free jaw movement.
For treating TMJ in Asheville, Dr. Kleive says identification of the underlying source of pain and discomfort are essential to crafting an individualized treatment plan. Although there are a wide variety of causes for TMJ, he says some of the more prevalent reasons include poor bite alignment; chronic clenching or grinding of teeth, especially during sleep; trauma or accident; anxiety or stress, and chronic illness. Dr. Kleive assures patients that through diagnosis of oral history and habits, x-rays of the teeth and jaw, and a thorough examination from an experienced dentist, patients can identify TMJ and treat it using personalized solutions such as Invisalign® for bite realignment and a custom-fitted oral bite guard.
"There are many treatment options, but oral appliances such as bite guards can be a straightforward solution to relief from jaw pain," says Dr. Kleive. "For some patients, they are an ideal solution because they are custom crafted for each individual and generally can provide rapid relief from symptoms."
Dr. Kleive says patients seeking relief from the pain associated with TMJ should consult a qualified dental practice before undergoing treatment to ensure proper therapy and the most effective results. He also adds that given the right treatment for each individual, patients can resume normal daily functions and get back to living their lives without pain.
"Because TMD symptoms like headaches, tension, and muscle tenderness aren't always attributed to the temporomandibular joint, some people experience years of discomfort before receiving a proper diagnosis, says Dr. Kleive" "When patients finally experience relief from their symptoms, they couldn't imagine living life any other way."
About Mark Kleive, DDS
Dr. Mark Kleive graduated with distinction from the University of Minnesota School of Dentistry and is a visiting faculty member at the Pankey Institute, a facility for post-graduate dental education. He is a member of the American Academy of Cosmetic Dentistry and the American Dental Association.
Located at 3176 US 70 Highway in Black Mountain, NC, Dr. Kleive's practice can be contacted at (828) 669-2974. He can also be reached online through the website blackmountaindentist.com or facebook.com/RenewingSmiles.
###