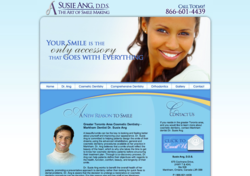 It is important for dentists to pursue further education both in and outside of dentistry if they are to offer the highest level of patient care.
Toronto, Ontario (PRWEB) January 25, 2012
At her Toronto cosmetic dentistry practice, Dr. Susie Ang recently completed courses in osteopathy to aid in the treatment of temperomandibular joint (TMJ) disorder. As the second most commonly occurring musculoskeletal condition behind back pain, according to the National Institute of Dental and Craniofacial Research (NIDCR), TMJ has been reported to affect up to 12% of the population. Dr. Ang says continued education in TMJ treatment helps her offer the most advanced techniques in easing jaw pain and dysfunction. She also says her courses, taken with the Osteopathic Center for Children and Families, helped provide her with the tools to identify the proper treatment for individual patients who experience TMJ pain.
For patients suffering from TMJ disorder, Dr. Ang says symptoms and pain can often spread to the head, neck, and ear, causing painful spasms, damage to teeth, and intense migraine headaches. TMJ pain has been associated with a number of external causes including unconscious clenching or grinding of teeth, trauma, teeth misalignment, excessive gum chewing, and degenerative joint disease. Dr. Ang says many patients experience difficulty with biting and chewing, clicking or popping, and aching pain in the jaw. She adds that treatment of these symptoms requires extensive knowledge and experience in jaw structure and physiology as well as a dedicated pursuit of the latest treatment techniques so she can treat the cause of the problems rather than simply focusing on the relief of the symptoms.
For patients seeking TMJ treatment in Toronto, Dr. Ang recommends consulting with a dental professional who has the proper qualifications and experience. Also, by participating in continued dental education, Dr. Ang says dentists can offer their patients the highest quality care and the most comfortable experience. She says she hopes to continue learning new techniques and perfecting her treatment procedures by engaging in active education through courses in and outside of dentistry. "It is important for dentists to pursue further education both in and outside of dentistry if they are to offer the highest level of patient care; for example, by incorporating understanding and treatment learned through osteopathy, patients who walk in with tension and/or migraine headaches can walk out headache-free and smiling. This truly transforms their attitude and possible anxiety, which is very satisfying for both me and my patients."
About Susie Ang, DDS
Dr. Susie Ang graduated from the University of Toronto, Faculty of Dentistry and completed a post-graduate program in Esthetic Dentistry at SUNY Buffalo. She is an active member of the Academy of General Dentistry, the Toronto Crown and Bridge Study Club, the Toronto Academy of Dentistry, the American Academy of Dento-Facial Esthetics, and the American Society for Dental Aesthetics (ASDA)..
Located at 675 Cochrane Drive, Ste 508 in Markham, Ontario, Canada, Dr. Ang's practice can be reached at (866) 601-4439. She can also be contacted online via the website drsusieang.com.
###