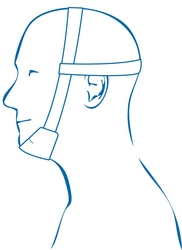 "I recommended the TempOrthotics Brace for a patient following TMJ surgery. The patient was very pleased with the comfort and reduced stress on her jaw joints..." - Dr. K.E. Perino
Grand Junction, CO (PRWEB) March 29, 2011
TempOrthotics is excited to announce their new line of TMJ (Temporomandibular Joint) Orthotic braces. TMD (Temporalmandibular Disorder) affects millions of patients each year and the designer of the TempOrthotic, also a TMD sufferer, designed this brace to assist in the post-surgical healing process.
The TempOrthotics' 'Stabilizer' brace is designed for post-surgical situations where movement of the jaw is desired during healing. By proper positioning of the orthotic, the wearer is provided gentle support allowing movement, while avoiding over-stretching due to excessive translation of the condyle within the fossa of the temporal bone. It also takes the place of active contractions of the elevator muscles allowing these muscle groups to relax which helps to relieve tension-related pain.
The TempOrthotics' 'Immobilizer' brace is designed for post-surgical situations where limited to no movement within the temporomandibular joint is required during the healing process. By securely cradling the jaw, the orthotic reminds the wearer to be cautious of unintended jaw movements or strain.
The designer of the brace realized a definite need for an external TMJ (Temporomandibular Joint) orthotic during her recovery following an accident and subsequent jaw surgery. She felt the necessity for a device that would provide support and relief from tension and stress on her healing jaw tissues. The challenge that had to be met in the design of the orthotic was to create a brace that would support the jaw in a forward rather than backward position. By using the placement of the elastic-enhanced straps in relation to the slope of the mandible, the TempOrthotics' 'Immobilizer' and 'Stabilizer' orthotic braces offer relief from stress and tension in the temporalis and masseter muscle groups by cradling the mandible in the desired, forward, close-mouthed position.
Both of the above mandibular orthotics fulfill a real need for millions of TMJ sufferers and are proving beneficial in many different medical/dental settings. Listed below are just a few where the orthotic braces are being employed or their use explored:
-The TMJ orthotic assists in stabilizing the bite when used in conjunction with dental sleep appliances
-Oxygen users will get the full benefits of their nasal intake as a result of the close-mouthed position. The brace is compatible and easily worn over the oxygen head gear, and even assists in keeping the breathing tube securely in place during sleep.
-When the jaw is held securely in a forward, closed position, snoring is alleviated. Applications of the device in the areas of sleep apnea are being examined as well.
The unique design of the brace(s) will allow it to be worn comfortably by any patient who finds it necessary to sleep in an upright position. Oftentimes this position causes the mouth to fall open resulting in dry mouth and throat irritation. Keeping the mouth secured in a closed position will help alleviate these symptoms.
TempOrthotics is consistently receiving positive feedback from doctors and patients; a few testimonials are below:
"I recommended the TempOrthotics Brace for a patient following TMJ surgery. The patient was very pleased with the comfort and reduced stress on her jaw joints. It allows the patient to relax (which is always a plus in the healing process), and not constantly worry or be aware of unintended jaw movement. It also aids when sleeping to support the jaw and help stabilize the bite"
-Dr. K. E. Perino, Oral and Maxillofacial Surgeon, Grand Junction, CO
"When treating patients with TMJ dysfunction and pain, we have found that the TempOrthotics head brace has helped the patient in stabilizing the jaw joints when using an oral appliance allowing the muscles to relax. It is especially useful during sleep when it is important for the jaw to be supported and maintained in the proper position for healing…"
-Dr. M. D. Doherty, Craniofacial Pain/Sleep Disorders Carbondale, CO
"My jaw tends to drop when I sleep since I sleep semi-reclined for comfort. When I wear the 'Stabilizer' brace, I get more benefit from my oxygen since my mouth stays closed. My husband also believes my snoring is reduced or stopped all together. I find the brace to be very comfortable as well…"
-Andrea Brewer, cancer patient
TempOrthotics has chosen to have its products proudly manufactured in the U.S.A. at ProSafe Products Inc., located in Grand Junction, CO. TempOrthotics also encourages its customers to seek the advice of an oral or medical professional before using our product. Please visit our website at http://www.TempOrthotics.com. Distributors may contact Mike Heckly, Sales, at Mike(at)temporthotics.com
###