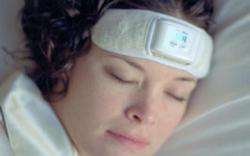 When people say they want TMJ relief or they want to prevent migraines, they often don't realize that what they are really saying is that they want to stop clenching their teeth in their sleep.
Arlington, Massachusetts (PRWEB) February 22, 2013
Holistic Technologies TMJ and Migraine clinical trial results (published in January 2013) are important news for pregnant women seeking to avoid use of drugs during their pregnancy. The results show that users of the SleepGuard biofeedback headband were able to eliminate or substantially reduce migraines and TMJ-related pain and problems through nighttime biofeedback. This included the elimination of jaw pain, facial pain, temporomandibular joint pain, tooth pain, loose teeth, neck pain, and headaches. This pain elimination was a result of drastically reducing their nighttime clenching through nighttime biofeedback. "When people say they want TMJ relief or they want to prevent migraines, they often don't realize that what they are really saying is that they want to stop clenching their teeth in their sleep", says Lee Weinstein, CEO of Holistic Technologies.
The operation of the SleepGuard biofeedback headband is simple. It is worn on the head and senses EMG muscle signals from the temporalis muscles at the temples, allowing it to detect nighttime clenching. With a little bit of daytime practice, users quickly learn to respond to the quiet part of the biofeedback sound without waking up. "When the SleepGuard unit catches you clenching in sleep, it makes a sound against your forehead which you hear in both ears. The sound comes on quietly and typically within a few days of use, people are able to respond to the sound (by relaxing their jaw muscles) in their sleep, without waking up", says Weinstein.
In her best-selling book "The Migraine Brain", Harvard Medical School professor Carolyn Bernstein endorses the use of biofeedback as one mode of drug-free pain reduction for pregnant women. Weinstein points out "That was daytime biofeedback, which might facilitate a 15% reduction in Migraines. Nighttime biofeedback is even more effective for migraine prevention, because the nerve signals that set up the conditions for the migraine to happen come from the roots of the teeth during nighttime clenching, so if you stop the clenching, that disables the migraines in many people. Nighttime biofeedback often facilitates more than a 90% reduction in migraines."
In addition to the Holistic Technologies clinical trial, Weinstein points to brain scan research done by Dr. Nouchine Hadjikhani on chronic migraine sufferers at Massachusetts General Hospital in 2007, which showed that the brain structure of chronic migraine sufferers differs from that of other people in the region of the somatosensory cortex that receives sensation signals from the head and face (including the roots of the teeth). "When someone habitually clenches her teeth in her sleep", says Weinstein, "the clenching force is often so hard that it would be painful if she were awake. For people with migraine-sensitive brains, the nerve signals streaming into the somatosensory cortex from nighttime teeth clenching set up the conditions that allow the cascade of neurochemical events that make up a migraine, so for many people, stopping the clenching prevents the migraine."
The biofeedback headband may also be used in silent mode (diagnostic mode), which allows quantifying the severity of a person's nighttime clenching habit, and allows clinicians and consumers to measure whether a particular treatment or diet change increases or decreases a person's nighttime clenching. Because the free trial period for the SleepGuard biofeedback headband is 21 days, there is plenty of time for someone to figure out whether nighttime clenching is a problem, and if so, whether nighttime biofeedback results in a significant reduction in or elimination of pain.
Rental units are also available for consumers who want to use a unit for several months without purchasing it, and people can rent to own in nine monthly payments if desired.
"We feel it is basically unfair that almost all other TMJ and migraine treatments don't even have money-back guarantees", says Weinstein. "We have made the SleepGuard biofeedback headband free to try. We feel no TMJ or migraine treatment should have to be paid for unless it works for the person using it."
Interviews with TMJ and migraine clinical trial participants can be arranged upon request for members of the press, and Holistic technologies makes raw clinical trial data available to university researchers.
Holistic Technologies LLC has been providing nighttime biofeedback relief to thousands of bruxism sufferers since 2007. The company website is http://StopGrinding.com. News and new information regarding the SleepGuard biofeedback headband may be received automatically through the SleepGuard news RSS feed.
– END –