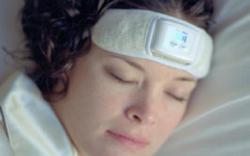 The SleepGuard biofeedback headband empowers people to train themselves out of the addictive habit of nighttime clenching which is causing their TMJ pain an enabling their migraines.
Arlington, Massachusetts (PRWEB) February 26, 2013
Most types of TMJ-disorder-related pain (jaw pain, facial pain, temporomandibular joint pain, tooth pain, loose teeth, neck pain, and headaches) are caused by ongoing tissue damage done by habitual nighttime teeth clenching. The nerve signals from nighttime clenching are also a key component of migraines being triggered in people with migraine-sensitive brains. At the annual conference of the American Association of Applied Psychophysiology and Biofeedback (AAPB) in Portland, Oregon, from March 14-17, Holistic Technologies will demonstrate its nighttime biofeedback technology that allows migraine and TMJ disorder sufferers to get out of pain by training themselves out of nighttime clenching. Attendees and members of the press are invited to try the SleepGuard biofeedback headband at the conference exposition.
Most people go to a dentist seeking TMJ relief, but dentists are rarely able to reduce clenching with a custom mouth guard. "Mouth guards protect tooth enamel, but they often increase a person's addictive nighttime clenching habit", says Lee Weinstein, CEO of Holistic Technologies. Dentists typically aren't' trained in the psychology of modifying addictive habits, and the sensation from the roots of the teeth during nighttime clenching feeds an addictive oral habit for most TMJ sufferers. The SleepGuard biofeedback headband empowers people to train themselves out of the addictive habit of nighttime clenching which is causing their TMJ pain an enabling their migraines".
Migraines are most often treated with expensive drugs that can have serious side effects, but for many there is another way – a way that does not require drugs, but just requires altering a sleep habit. "Many people don't realize that their migraines would not be happening if they were not clenching their teeth in their sleep", says Weinstein. In 2007, Dr. Nouchine Hadjikhani did brain scans of chronic migraine sufferers at Massachusetts General Hospital (MGH), and found that the brain structure of chronic migraine sufferers differs from that of other people in the region of the somatosensory cortex that receives sensation signals from the head and face (including the roots of the teeth). Holistic Technologies' recently published clinical trial results that dovetail with the MGH findings to show that for people who have a nighttime clenching habit, more than 90% of migraines stop happening when nighttime clenching is reduced by 80% through nighttime biofeedback.
Since many migraine sufferers don't know whether they clench their teeth in their sleep, and since unlike teeth grinding, teeth clenching often does not leave telltale visible signs such as enamel wear, Holistic Technologies offers a three-week free trial of the SleepGuard biofeedback headband, so that Migraine sufferers can determine without cost whether they can use it to prevent migraines.
"We feel it is basically unfair that almost all other TMJ and migraine treatments don't even have money-back guarantees", says Weinstein. "We have made the SleepGuard biofeedback headband free to try. We feel no TMJ or migraine treatment should have to be paid for unless it works for the person using it."
Interviews with TMJ and migraine clinical trial participants can be arranged upon request for members of the press, and Holistic technologies makes raw clinical trial data available to university researchers.
Holistic Technologies LLC has been providing nighttime biofeedback relief to thousands of bruxism sufferers since 2007. The company website is http://StopGrinding.com. News and new information regarding the SleepGuard biofeedback headband may be received automatically through the SleepGuard news RSS feed.
– END –