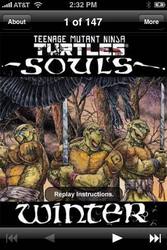 These are some of the most engaging Turtles comics ever crafted, and Zulli's vivid illustrations and poignant storytelling are captured wonderfully in these apps for the iPhone and iPod Touch
Kansas City, MO (PRWEB) February 3, 2009
Teenage Mutant Ninja Turtles: Soul's Winter, the collected TMNT comic book tales of legendary Sandman artist Michael Zulli and longtime TMNT writer and Umbra creator Murphy, is now available on iPhone and iPod Touch from digital entertainment provider Uclick. The collection is presented in three apps available for download on the iPhone App Store at $.99 (US) cents each.
Best known for the moody, realistic illustration style he brought to memorable tenures on The Sandman and Swamp Thing comic books, Zulli's Teenage Mutant Ninja Turtles work immediately resonated with fans and soon ranked among the most popular stories of the franchise's 25-year history. The Soul's Winter collection features an extended tale of the Turtles' disastrous encounter with their arch nemesis, as well as three short stories.
"The stories in Soul's Winter achieve a rare level of greatness - the kind that is only possible when iconic characters are paired with a superior talent," said Uclick CEO Douglas Edwards. "This is the meeting of Michael Zulli, a graphic storytelling master, with the Turtles, one of the most popular comic creations of the modern era. The result is a group of stories with depth and emotion, carried through beautifully in the integration of art and story."
"These are some of the most engaging Turtles comics ever crafted, and Zulli's vivid illustrations and poignant storytelling are captured wonderfully in these apps for the iPhone and iPod Touch," Edwards continued.
Besides a host of Teenage Mutant Ninja Turtles titles, Uclick has created dozens of comic apps for the iPhone and iPod Touch in recent weeks, including Bone, Grounded, GODLAND, Halo & Sprocket, as well as webcomic collections Pibgorn, Basic Instructions and We the Robots and the manga hit Dramacon.
The iPhone Uclick apps feature tap-and-swipe, panel-by-panel controls. The large multi-touch screen on the Apple devices enables clear, high-resolution presentation, but users can also utilize the zoom feature to get an even closer look at any panel.
To get Teenage Mutant Ninja Turtles: Soul's Winter and other favorite comic books, manga and graphic novels for the iPhone and iPod Touch go to the new Uclick Web App by typing Uclick.com into the Safari browser or visit the App Store on the iPhone or on iTunes.
About UCLICK:
UCLICK® is the leading digital entertainment provider of humor, comic strips, manga, graphic novels, editorial cartoons, and other content for desktop, web and mobile phones. Uclick is also the leading creator and distributor of crosswords, and other word and number puzzles. Partners featuring Uclick content include the leading consumer portals Yahoo!, MSNBC.com, New York Times, Slate.com, washingtonpost.com, CNN, USA Today, and AOL. Uclick features include the top brand franchises Garfield, Doonesbury, Calvin and Hobbes, Paul Frank, Teenage Mutant Ninja Turtles, TOKYOPOP, USA Today, Pat Sajak, Wyland, and many more. Uclick creative content and services are available through the GoComics.com website, U.S. mobile phone operators, the iTunes App Store, and other distributors worldwide. UCLICK, LLC is a division of Andrews McMeel Universal, the leading newspaper syndicate and publisher of humor books and calendars in North America.
For more information on Uclick, visit http://www.uclick.com.
###