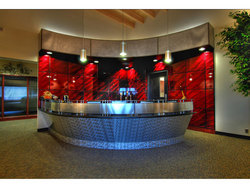 "The Inc. ranking and the new facility in North Sioux City are a testament to TMone's commitment to growing with our clients." stated TMone President, Anthony Marlowe
Iowa City, IA (PRWEB) September 1, 2010
TMone, a leading Business Process Outsourcing (BPO) and Customer Relationship Management (CRM) firm announced that it has been named to Inc. Magazines exclusive ranking of the nation's fastest growing companies for the fourth consecutive year. The announcement is aptly contemporaneous with the grand opening of TMone's new office in N. Sioux City, SD, the third office since the growing company started operating in 2003.
The Inc. list represents the most comprehensive look at the most important segment of the economy—America's independent-minded entrepreneurs. "The leaders of the companies on this year's Inc. 5000 have figured out how to grow their businesses during the longest recession since the Great Depression," said Inc. president Bob LaPointe. "The 2010 Inc. 5000 showcases a particularly hardy group of entrepreneurs."
The announcement of the Inc. ranking and the launch of TMone's third location are timely. The new state of the art facility is located in South Dakota, which provides both a diverse talent pool and business environment in which to expand the growing business. TMone is Iowa fastest growing Business Services Company.
TMone COO, John Burchert, stated, "This new location is an exciting milestone on the path of TMone's growth. With the favorable economic environment provided by the state of South Dakota, and new clients coming on board, TMone is poised to double again in the next 18 months."
"The Inc. ranking and the new facility in North Sioux City are a testament to TMone's commitment to growing with our clients." stated TMone President, Anthony Marlowe. "TMone's success has been built on our ability to form lasting strategic partnerships with our B2B, TAM, CRM, and B2C clients and to expand those partnerships through business relationships based in mutual trust, values and commitment to results. It is this philosophy, along with our belief that business evolution is infinite that has made TMone an industry leader and enabled us to grow and provide new opportunity in the communities where we operate."
About TMone®
TMone provides inside sales, business process outsourcing (BPO) and customer relationship management (CRM) services through three service locations. TMone provides fully enabled contact center services that support the full customer life cycle using state of the art, multi-media communications. Experts in both Business to Business (B2B) & Business to Consumer (B2C) interactions, the industry performance leader renders a wide range of CRM services including customer acquisition, Telephone Account Management (TAM), customer care, retention upsell and win-back services.
TMone was named to Inc.'s Fastest Growing Privately Held Companies in 2007, 2008, 2009, and 2010.
For additional company information, visit TMone's web site at http://www.TMone.com or contact our corporate offices at 866-577-2461.
###